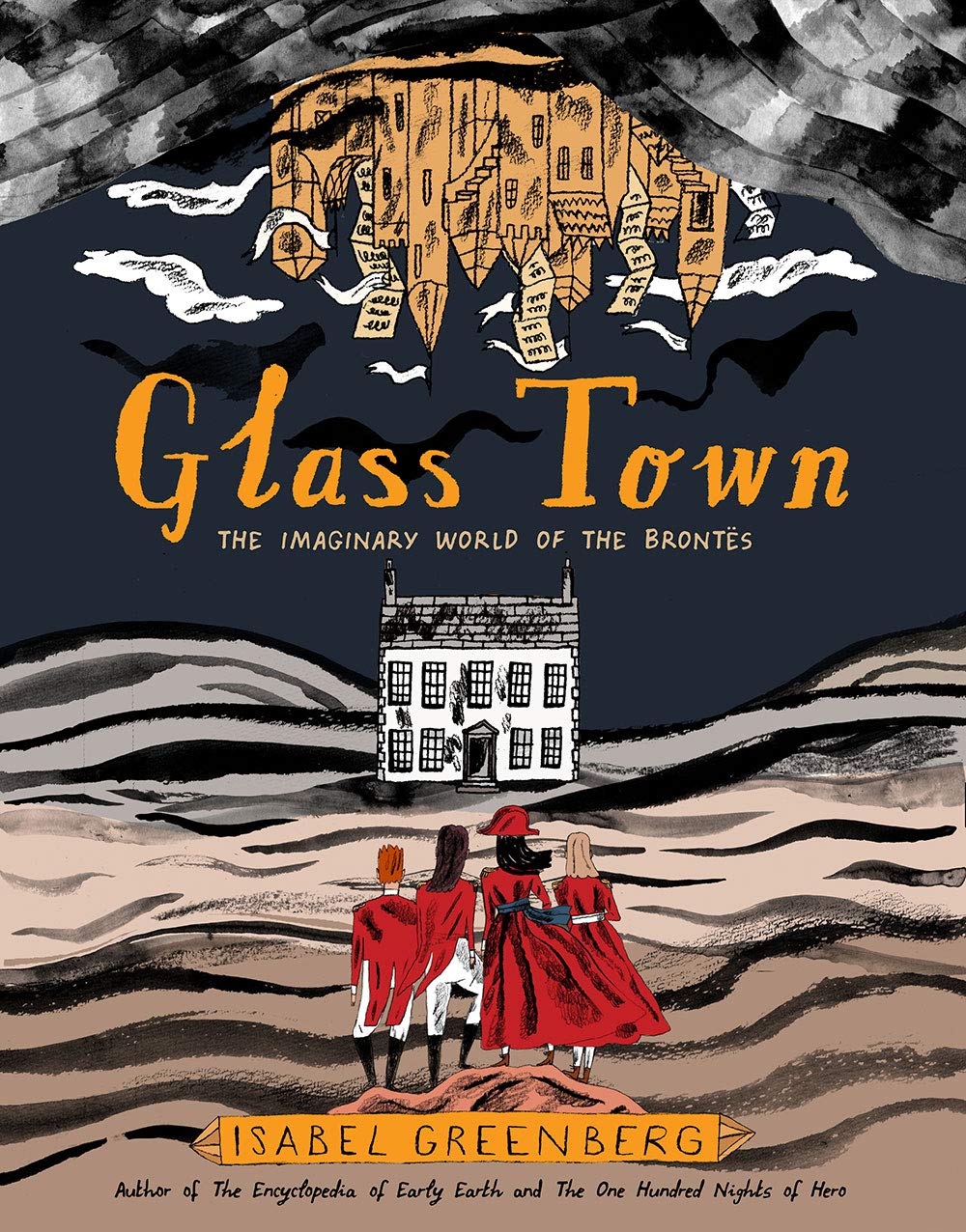 "I'm just going to write because I cannot help it."—Charlotte Brontë
Glass Town: The Imaginary World of the Brontës, by Isabel Greenberg, is not a biography of the Brontë sisters. It is not a retelling of any of their classic novels. It's not an alternate history or a dramatized version of their lives that shows where their inspiration came from. It's something entirely different. Glass Town is a story about stories. Much like in Greenberg's other books, The Encyclopedia of Early Earth and The 100 Nights of Hero, Greenberg decides to focus on how stories impact our experiences as humans. But the humans she focuses on this time just happen to be some of the greatest storytellers in literary history.
Charlotte, Anne, Emily, and Branwell Brontë were writing stories well before Jane Eyre ever set foot in Thornfield Hall. As young children, the four siblings suffered the loss of their mother and two sisters in quick succession. Perhaps in part to deal with their sorrows, the remaining four Brontë children invented fantasy worlds into which they would escape and weave sensational dramas – no doubt practicing for the masterpieces the sisters would later publish. One of these worlds was called Glass Town, and it appears in the Brontës' juvenilia.
About 200 years later, in comes Isabel Greenberg. Her new graphic novel, Glass Town, explores how this paracosm (fancy word for an extremely detailed imaginary world invented by children) potentially affected the Brontës' lives, writing, and relationships with one another. The graphic novel is narrated by Charlotte Brontë herself after all her siblings have passed. One day, she is visited by an old imaginary friend, Charles Wellesley, one of the dramatis personae of their Glass Town. Charles tries to convince Charlotte to revisit their childhood stories in order to cope with the loss of her siblings. And so the story begins.
The novel alternates between the true story of the Brontës' childhood and the dramas that they created in Glass Town, all narrated by Charlotte (and her subconscious Charles Wellesley). Sound complicated? Yes, but while you read it, it's really not. Isabel Greenberg's ability to weave stories-within-stories makes reading Glass Town a fascinating, moving experience. I don't know how she does it.
You do not have to have read any of the Brontës' novels to appreciate the genius of Glass Town, nor do you have to have read any of Greenberg's other graphic novels. Long-time fans of Greenberg or the Brontës will adore this book, and newcomers will want to immediately dive into their other works. Clever illustrations, witty humor, and brilliant uses of color abound in Glass Town, and I give it a solid five stars.
A copy of this book was provided by the publisher, Abrams ComicArts, for review.