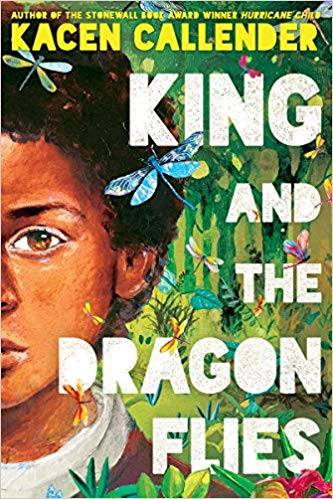 Ever since he saw a dragonfly at his older brother Khalid's funeral, King is sure that he is a dragonfly – those colorful, iridescent wings fit perfectly with the shimmering, ethereal world Khalid used to describe in his sleep. Plus, if Khalid is a dragonfly, that means he isn't really gone. Every day since Khalid's death, King has walked to the bayou after school, hoping to catch a glimpse of his brother, and he dreams of Khalid almost every night.
But King's grief isn't the only thing on his mind these days. Sandy Sanders, a boy from King's class, has gone missing. Sandy used to be one of King's best friends, but after Sandy revealed he was gay, Khalid told King their friendship needed to end. King knows Khalid was only looking out for him, but he still doesn't feel good about the way he treated Sandy. When King finds out where Sandy is hiding, he'll have to decide for himself the right thing to do.
In King and the Dragonflies, author Kacen Callender has crafted another lyrical middle grade novel about loss, identity, and friendship. I was particularly struck by the complexity with which Callender rendered King and Khalid's relationship. Khalid was a beloved older brother, but he was also a child himself, and he wasn't done learning when he died. Sitting with King as he learns to reconcile those two versions of his brother is a powerful experience.
I also appreciated the nuance with which King's friendships were painted. Being 12 is harder than most of us remember, and King's difficulty navigating his friendships with Sandy, Jasmine (his best friend who wants to be his girlfriend), and the other kids at school really rang true to the experience of learning how to communicate honestly with the people you care about, even when it isn't easy. (It's probably something most adults could use a refresher on, too.)
I am 100% here for anything Kacen Callender writes – you should be too.
A copy of this book was provided by the publisher, Scholastic, for review.