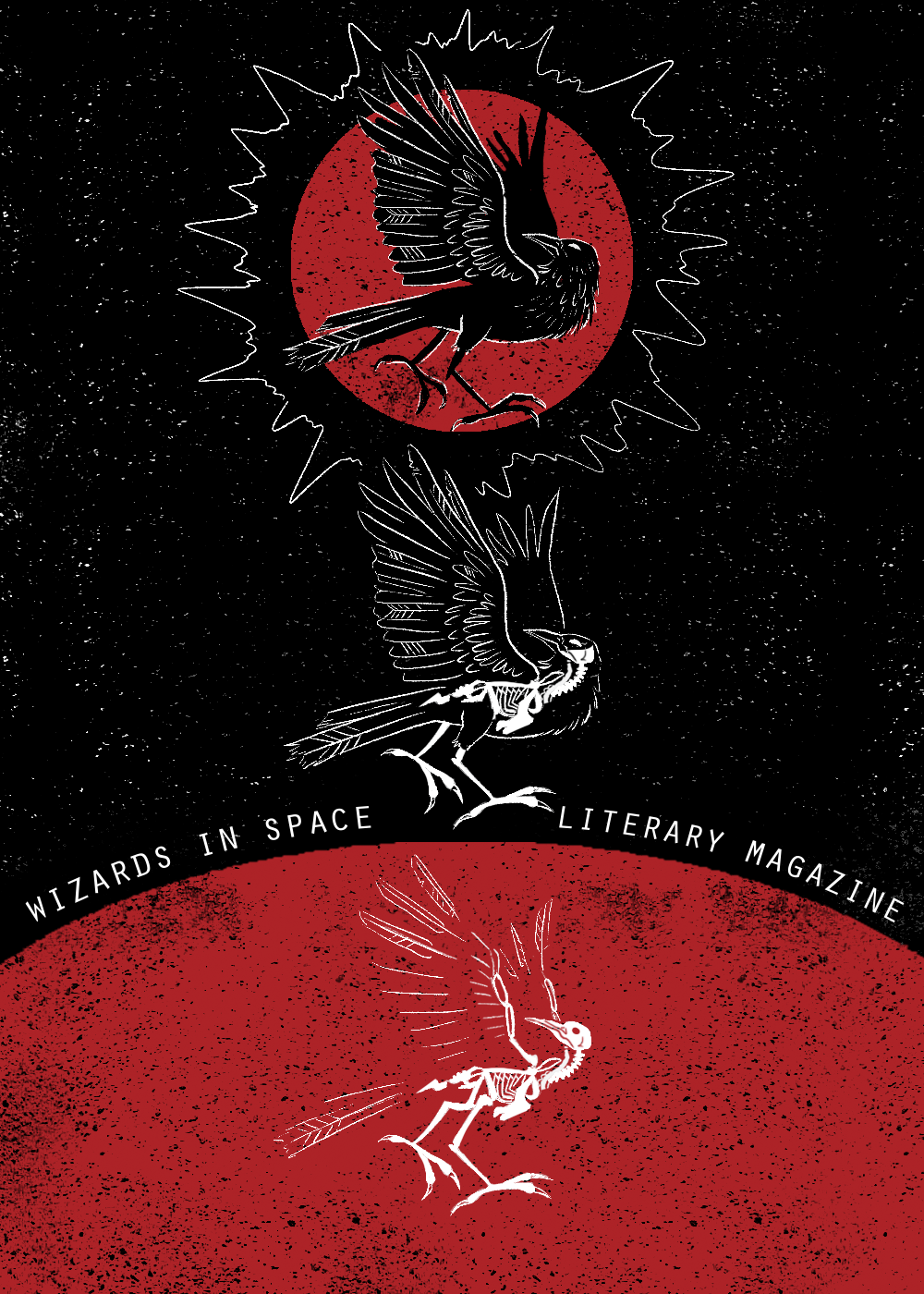 Wizards in Space Issue 05 proves that you don't need a wand or a Hogwarts letter to make magic.
If you've never heard of Wizards in Space before, here's some background, because it's too awesome not to share. This literary magazine got its start through the Harry Potter fandom. Inspired by how the story of the Boy Who Lived brought writers and illustrators together on fan sites and at fandom conventions, founder and editor-in-chief Olivia Dolphin wanted to create a space for writers and artists to showcase their original work. While the magazine isn't Potter themed, Issue 05 showcases a fair amount of fantasy poems, illustrations, and short stories, as well as a wide variety of other genres.
I have a lot of respect for Wizards in Space for many reasons, but especially because they believe that writers and artists deserve compensation for their work. Their crowdfunding efforts not only help with printing and shipping their magazines but also provide pay for their contributors! It is so validating as a writer myself to know that the folks behind Wizards in Space are working to set the expectation that artists and creators deserve to be paid for their work.
Issue 05 begins with a beautiful foreword that introduces the magazine's theme: a reflection on cycles, orbits, rotations, and what it means to keep going. I received my copy during the first week of the United States's quarantine efforts due to the spread of COVID-19. It felt serendipitous: As my country was being shaken by a never-before-seen pandemic, I found myself immersed stories and poems about rebirth, the breaking and reforming of cycles, and the examination of habits and structures we set for ourselves. At a time of worldwide instability, these creative meditations on change encouraged me to embrace uncertainty. For this reason and many others, I relate to the themes in Issue 05 in a deeply personal way. I attribute this in large part to the feeling of authenticity in this collection: These works felt like they were created from a place of vulnerability in their authors and illustrators.
For me, Wizards in Space Issue 05 was a reminder that fears and struggles with change are shared human experiences. Poems like "I Miss the Birds in Winter" and "Bloom" call readers to reflect on the cyclical seasons, bringing to mind that change is inevitable yet natural. Mythical short stories "The Weight of Her World, and Another" and "Aegean on the Seas" examine change in the realm of fantasy, highlighting how cycles drive protagonists to character development. "How to Live with the Monster in Your Apartment" is a step-by-step guide to adapting to a change that feels negative, and the personal narrative "Far Beyond the Stars" served to me as a reminder that we can rely on art to get through our unique orbits.
Wizards in Space Issue 05 called me to reflect on what I lose and gain as I move through the seasons of my time on earth. I would recommend this magazine to anyone who is seeking inspiration in their personal creative work or facing a sort of block in their artistic expression. This collection couldn't have come at a more appropriate time in my life, and I am beyond excited (and thankful) for the artists featured in this issue.
A copy of this literary magazine was provided by the publisher, Wizards in Space, for review.