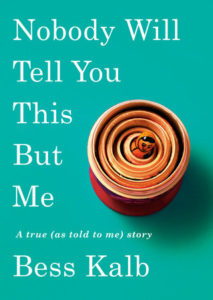 Bess Kalb's tell-all memoir, Nobody Will Tell You This But Me, is raw, honest, and funny. This is the story of four generations of women in one family, as told from the perspective of the author's grandmother, Bobby (Barbara).
What I liked best was getting to know the people at the heart of this story. The dynamic characters enable the reader to get a sense of their distinct personalities, strengths, and flaws.
Bobby was born in 1880s Russia and immigrated to America. She never forgot where she came from or how lucky she was. Bobby was determined to live life to the fullest and frequently reminded others of how lucky they were too. Bobby was a sharp, brilliant, witty, and straightforward woman from beginning to end.
While I cherish the characters and the story itself, some parts were a little challenging to follow. It took me a few minutes to make sense of how the story shifts from narrative to snippets and back again. Bess shares snippets of conversations between herself and her grandma, as well as voicemails and text messages. Though it was confusing at first, I grew to appreciate the unique writing style, and I feel that it is the right style for the story.
Nobody Will Tell You This But Me showcases the close relationship between a grandmother and her granddaughter. Bess recounts her family history through the unique perspective of her hilariously blunt grandma. This memoir packs all the feels. Bobby spills the tea of family secrets and reminds us that every family is unique.
I literally laughed out loud several times while reading Nobody Will Tell You This But Me. Bess Kalb truly captures the bond she shared with her blunt and lovable grandma. Bobby reminds me of my grandma, whom I grew up with and miss dearly. As Bess recalls messages and conversations that she shared with her grandma, I couldn't help but recall the conversations I had with my own grandma. Nobody Will Tell You This But Me was truly a heartwarming book to read.
A copy of this book was provided by the publisher, Alfred A. Knopf, a division of Penguin Random House LLC, for review. You can support independent bookstores by purchasing Nobody Will Tell You This But Me from Bookshop, or buy it on Amazon.