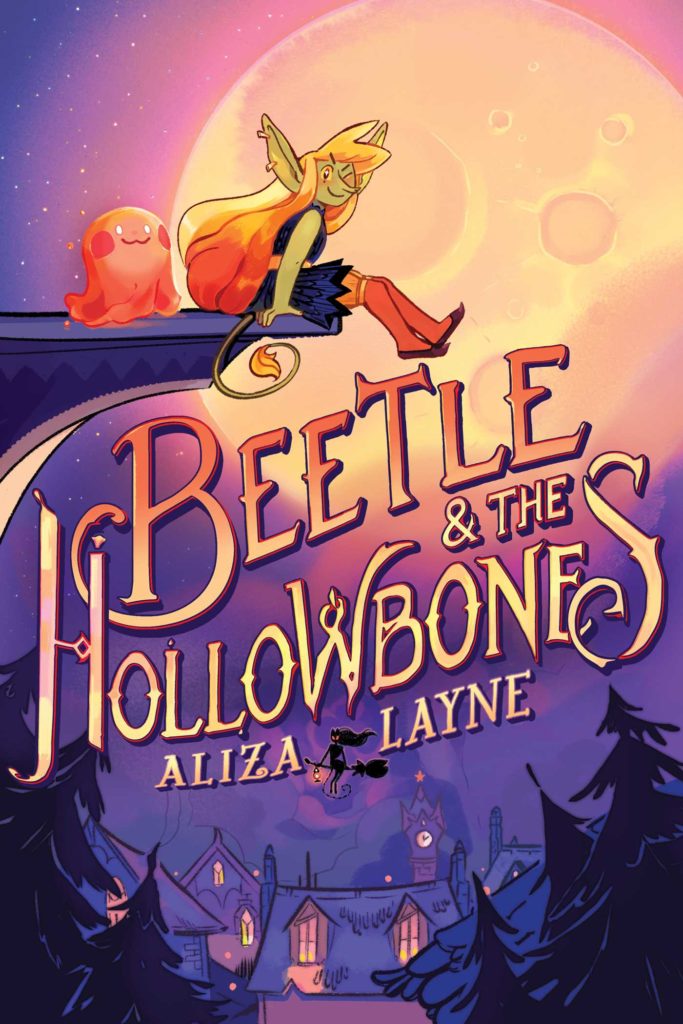 Do you love magic? Are graphic novels your preferred form of reading? Are you ready for October and the spooky coziness of fall? If so, you're in for a treat!
Beetle & the Hollowbones is a graphic novel about a goblin witch named Beetle; her ghost friend, Blob Ghost (B.G.), whose spirit is eternally trapped inside the mall; and her lifelong friend and crush, Kat. While Beetle is homeschooled, blends in with the crowd, and would rather spend her day watching her favorite shows and hanging out with B.G., Kat is an excellent witch, beautiful, and even a little famous. When Kat returns to their creepy hometown of 'Allows for an apprenticeship with her sorceress aunt, Beetle learns that Kat's aunt is planning to tear down the mall—destroying her connection with B.G. along with it.
I knew immediately that I would love this book. It's got a lovely purple-and-orange color scheme, perfect for giving those Halloween vibes I so desperately crave; the cutest budding queer romance; and more action than I could have expected! The use of "they/them" pronouns for B.G. was also an appreciated touch, as was the representation of creatures and ghosts coming in all shapes and sizes in the town of 'Allows.
My favorite touch, however, is probably Layne's creative use of speech bubbles. The colors, as well as the outlines around them, conveyed different emotions and set a nice tone for dialogue when paired with the illustrations.
This is a magically brilliant debut graphic novel perfect for middle-grade readers, but I highly encourage readers of all ages to pick it up! It's a fun and magical story, but with enough emotional depth that the book is not lighthearted the whole way through. It has something for everyone, including some of the most creative artwork I've seen in a very long time. This was an instant five-star read for me, and I'll probably read it again soon.
I can't wait to see what other witchy wonders Layne has up her sleeve.
A copy of this book was provided by the publisher, Simon & Schuster, for review.