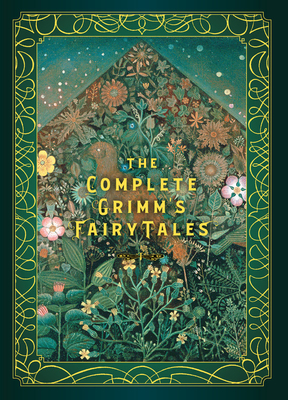 The Complete Grimm's Fairy Tales is a gorgeous addition to the Rock Point Timeless Classics collection, containing over 200 tales the Brothers Grimm collected and edited over their career. But while some of these tales – or versions of them – may be familiar childhood stories, this collection is a decidedly grown-up edition that will be a treasure on any bookshelf.
The intricate garden painting on the cover is accented with metallic gold designs and lettering, which really makes it pop on my shelf of folk tales. I'm slightly surprised that the pages don't have any sort of gilding on the edges, but it's a small detail that typically isn't visible when the book is on display, so it's not too disappointing. I love the green satin ribbon attached as a bookmark, though – in a book this size, it gets a lot of use.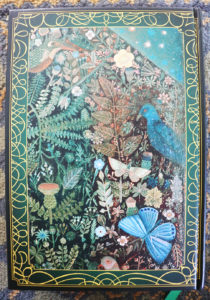 One of my favorite things about the book is the amount of "extras" included outside of the stories. The introduction by Dr. Lori Campbell, who has also published pieces discussing Tolkien's and J.K. Rowling's works, gives a nice biography of the Brothers Grimm and a brief history of the time period during which they collected these stories, as well as insights into their editing process. It's fascinating to keep these in mind while reading through the tales, especially considering the macabre contents of some of them! There's also a more detailed timeline after the index, as well as a suggested reading list for anyone interested in learning more about the Brothers Grimm, fairy tales, and folk tale analysis.
I also appreciate the lists of illustrations included after the main table of contents. This is not your average fairy tale storybook; Arthur Rackham's classic illustrations are few and far between, keeping the focus on the stories rather than the pictures. That said, the 40 full-page color plates are beautiful – highly detailed, though not vividly colored. The black-and-white drawings are often just as detailed, but they're sometimes sprinkled throughout the text in interesting patterns.
As for the stories themselves… well, they're rather grim (pun fully intended). A reader unfamiliar with the original tales may be in for a shock if they're used to the Disney adaptations. Even "Cinderella," one of the stories with a happier ending, is far more bleak and gruesome than the popular version. Descriptions of misfortunes and life's tragedies aren't sugar-coated; moral justice in these tales is meted out creatively and brutally. As noted in the introduction, modern readers may be surprised by how casually depictions of maimings and horrible deaths are written into almost every story. It's clearly meant as a frightening warning, but occasionally it's even written as humor, and often just as a matter-of-fact aspect of life. For a mild example found in several stories (and no spoilers, but you might want to look away for a moment if body horror isn't your thing), a locked door and no key is easily overcome by a character cutting off their own finger to use as a lockpick instead. Ta-da – problem solved!
(Mild gross-out warning over.)
While the gore is less surprising to anyone who read the introduction first or is already familiar with the stories – which, to be fair, were never originally intended for children – this collection provides an opportunity to reflect on cultural norms in morality tales. This book is what the Grimms' editing process deemed acceptable for their time and purpose; many of these tales might be considered inappropriate for younger readers now. Aside from the violence, there are some jarring moments when the stories champion archaic views toward people of races, religions, and genders that their society didn't perceive as equals.
That said, this edition of the fairy tales is a fantastic, slightly spooky read, and the translation alone – far less stilted than some editions, while closer to the original German than most of the more "poetic" English versions – is worth the investment. (But maybe it's not the best source of bedtime stories for little ones.)
A copy of this book was provided by the publisher, Rock Point, for review.