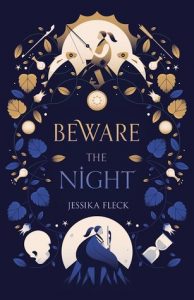 Beware the Night, by Jessika Fleck, is about Veda, a 17-year-old who loves to fish and spend time with her best friend, Nico. The only problem is that Nico is Dogio and Veda is Basso – Nico is rich and safe from the dangerous attacks by the Night, the rebel organization that terrorizes their home; Veda is poor and lives in constant fear of being killed by the Night, just like her parents were. When Veda meets Dorian, the glassblower's handsome apprentice, she realizes that everything she learned about their way of life might not be as it always seemed.
My go-to book is always a young adult fantasy with a teenage heroine (check out the last book I raved over for proof), so of course, I really enjoyed this novel. Fleck's writing is engaging and the story moves very quickly – it has to since the book is only 320 pages.
If you prefer romance over worldbuilding or action, this is definitely your book. Probably half of the narration from Veda's point of view is her feelings about the two boys, and even when you think things are purely about action, Fleck finds a way to squeeze in more romance. I didn't mind it, though it did cause a bit of whiplash sometimes when Veda's feelings went back and forth between them. I may have yelled at my book once.
Fleck has created a world clearly inspired by the Aztecs. The people of Bellona worship the Sun (the word is capitalized throughout the book) and give Offerings (also capitalized). I really enjoyed learning about the civilization Fleck created and hope to see more about this in the second book.
It was a tad confusing to keep track of what was true and what was not throughout the book since Veda is constantly being lied to and then finding out the truth herself. Hopefully, this doesn't continue to happen in the second book, because while I'm sure it was frustrating for Veda, it was just as frustrating for me!
I really enjoyed this book for what it was and had a great time reading it. If you love high fantasy like Ash Princess, Red Queen, or Children of Blood and Bone, you will have a great time reading Beware the Night.
A copy of Beware the Night was provided by the publisher, Swoon Reads, for review.