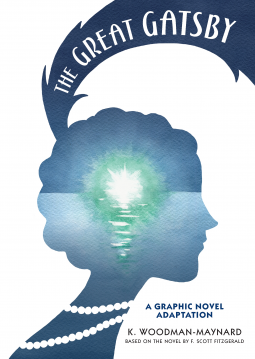 If you, my dear reader, struggle with finishing literary classics, I've got just the right graphic novel to help you get started. Graphic novelist and designer K. Woodman-Maynard's graphic novel adaptation of F. Scott Fitzgerald's The Great Gatsby is an excellent reading companion for the original, and it might just finally help you enjoy a masterpiece.
Set in the Jazz Age in New York City, New York, The Great Gatsby chronicles the attempts of the mysterious millionaire Jay Gatsby to reunite with his beloved, Daisy Buchanan, and is told through the lens of the narrator, Nick Carraway. While it may seem like an atypical romance story about love gone wrong, this novel is much deeper than that, reflecting the corruption of the American dream by material greed and wealth excesses and serving as a wider critique about class inequality in the United States during the 1920s.
The Great Gatsby is not heralded as a top contender for the title of the Great American Novel for no reason: It is written with sophisticated elegance and adorned with metaphors and figurative imagery. Yet as a weaker reader, I often feel a deep sense of frustration when attempting to conquer it because of my inability to understand Fitzgerald's writing style. This graphic adaptation, however, was incredibly useful in enabling me to see and appreciate the visual beauty of Fitzgerald's words.
Woodman-Maynard's drawings are so beautiful and detailed that they really bring the characters to life, creating an emotional bond with the readers. It's so much easier to track the plot and the characters' journeys when I'm able to visually follow what's going on. As someone who finds visualizing literary environments very challenging, I found the rich elements in each panel, coupled with the masterful selection of a variety of colors and shades, gave me a much fuller picture of the characters' surroundings and the world that they were navigating. This also added substantial depth to my conceptualization of the characters since Woodman-Maynard builds on Fitzgerald's original characterization and includes her own finer details.
I especially loved the use of watercolors, which makes the panels look simply stunning and gives the whole graphic novel a light and airy vibe, elevating the Jazz Age setting and the extravagant decadence of that time. Woodman-Maynard's faithfulness through her designs of 1920s fashion and culture goes a long way in aiding readers in imagining the societal norms back then.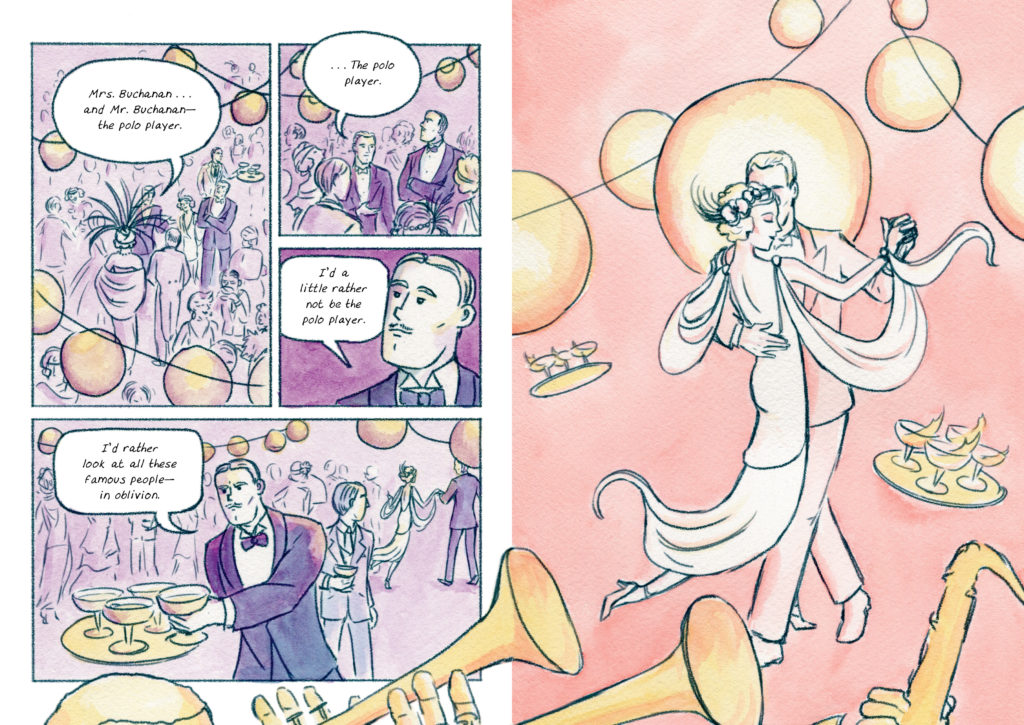 Most importantly, I deeply appreciated Woodman-Maynard's efforts to foreground Fitzgerald's extensive employment of literary devices with visual illustrations, and this was really effective in highlighting how poetic his language is. For instance, Nick Carraway, being an incidental character to most of the main events, is an unreliable narrator, and Woodman-Maynard depicts this through a dissonance between what readers hear him say and the truth that readers can see for themselves.
In spite of all these merits of a graphic adaptation, one glaring limitation is that not every line can be represented in the graphic panels. Here, I had hoped that Woodman-Maynard would delve deeper into the core themes of The Great Gatsby such that the book could stand alone, independent of the original novel, but this graphic adaptation, unfortunately, doesn't really flesh out and develop the themes enough to do it justice. Although this makes it less satisfying, it does a great job at being an introductory lead-in to ease readers into tackling the myriad of complex nuances of the book.
In the author's note at the end of the novel, Woodman-Maynard writes, "When I was contemplating adapting 'The Great Gatsby' into a graphic novel, it was again the metaphors that drew me to it. I was excited by the idea of showing Daisy and Jordan literally floating over a couch, a treatment that I believe encapsulates the fantastic nature of Gatsby's world." The debut graphic novelist's drawings are undoubtedly the star of this adaptation, entrancing readers with exquisite beauty and giving them a fully immersive experience into Fitzgerald's elaborately built world. Whether you're a first-time reader or a seasoned literary enthusiast, The Great Gatsby: A Graphic Novel Adaptation is a great reminder of what made the original novel so special.
A copy of this book was provided by the publisher, Candlewick, for review.