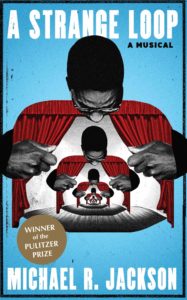 A Strange Loop is Michael R. Jackson's Pulitzer Prize–winning musical about Usher, a Black, queer musical theater writer. Or, as Usher explains it in the show, "it's about a Black gay man writing a musical about a Black gay man who's writing a musical about a Black gay man who's writing a musical about a Black gay man, etc."
I spend a lot of my time watching YouTube videos of musical theater performances, especially now that I haven't seen a live show in a year. I remember hearing "Memory Song" for the first time during a random YouTube deep dive and being blown away – by the performance, the music, the lyrics, all of it. I never got the chance to see the show in person, but when this script was offered to us for review, I immediately jumped at it.
The show first premiered in 2019 at Playwrights Horizons in New York and starred Larry Owens as Usher. You can listen to the original cast album on streaming platforms, so I listened along as I read the script. Since the show is mostly sung-through (meaning there's not much dialogue outside of the songs – think Hamilton or Les Mis), I'd definitely recommend reading the script this way. Also, note that the show includes sexual content, racism, homophobia, and adult language.
But even if the show weren't sung-through, you'd still want to listen along. Even without seeing him, you can feel Larry Owens's amazing performance as Usher. He breathes life into this character and is only helped by the fantastic writing. The vulnerability in Owens's voice during "Boundaries" will break your heart, and you never fail to understand exactly what he's going through as his strange loop continues.
Following along with the script gives you better insight into what exactly is happening in the play – I had listened to the cast album before reading the script, and now I understand that the other actors in the show are playing Usher's thoughts. These thoughts embody people in his life, from his parents to his boss. Usher is constantly being antagonized by his parents for being too gay and not Black or religious enough. By having Usher's thoughts play these roles, Jackson shows us the constant self-doubt, pain, and anger that make up Usher's mindset.
By the final song, which is named after the show's title, you'll understand Usher's pain and be rooting for a happy ending, but Jackson doesn't let us off that easy. He leaves us with Usher pondering a few options and recognizing his own strange loop, but this in itself is a victory for him.
A Strange Loop is exactly what the musical theater world needs. Jackson's gorgeous music and Owens's phenomenal performance bring to life a story about what it means to be a fat, Black, gay man living in New York City. Hopefully, this is a sign of more to come, from both Jackson and the often stuck-in-the-past musical theater world.
A copy of this book was provided by the publisher, Theatre Communications Group, for review.