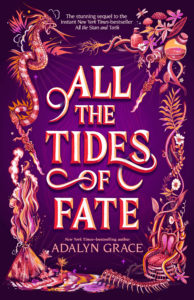 All the Tides of Fate is the conclusion to Amora's story, begun in All the Stars and Teeth by author Adalyn Grace. After successfully defeating the threat of Kaven, Amora is positioned to lead the kingdom of Visidia – but is she ready?
I really enjoyed All the Stars and Teeth, but All the Tides of Fate was absolutely fantastic. While Stars and Teeth is about the future, Tides of Fate is about the past. Amora is haunted by grief over her father's death and doesn't know if she can undo her family's past sins just by moving forward. Rumors of a powerful object that could set things right lead her on an important quest (disguised as one of my favorite tropes – a tour of the kingdom to find a husband).
And that's not to mention that she's lost her magic and half her soul to Bastian, causing an enormous rift between them. When Bastian and Amora connected in the first book with little conflict or hesitation (not to mention an immediately squashed love triangle), I was a little surprised, but it turned out to be the perfect setup for their dilemma in Book 2. Amora can't help but question everything she feels for Bastian since half her soul is inside him, and losing her magic (especially after discovering that it was corrupted in the first place) leaves her wondering who she truly is.
Can you tell that this book is about identity? Amora was such a strong and confident ruler in Book 1 and never wavered in her convictions. It's extremely satisfying to see her questioning herself in this book and working through it. Plus, all your favorites are back, including more Shanty, the face-shifting leader of the Barracudas, who's only seen briefly in Book 1.
If you enjoyed Stars and Teeth, get ready for Tides of Fate. The end had me more than a little choked up, and I know I'm going to be returning to this series when I need a great seafaring adventure with amazing, realistic characters. If you love complicated heroines, fascinating magic, and dashing pirates, you'll be obsessed with this series.
A copy of this book was provided by the publisher, Imprint, for review.