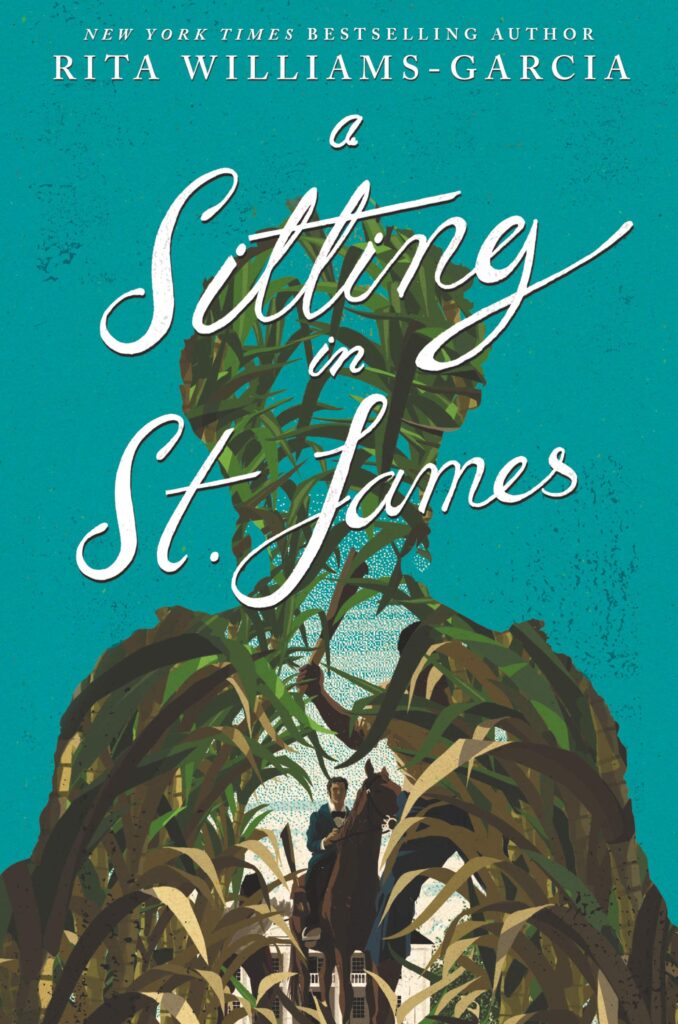 A Sitting in St. James opens on a Louisiana plantation in the summer of 1860, a family epic shaped by the cruel institution of slavery. As author Rita Williams-Garcia writes in a reader's note, "the need to know why so abhorrent an institution was, to slaveholding families, a necessity and an entitlement" was a major part of her motivation for writing this novel. This question, Williams-Garcia continues, was not one that could be answered by writing solely from the perspective of enslaved people. It also required an examination of people who owned other people and whose unimaginable cruelty was part and parcel of their mundane lives.
And so we have our cast of characters: the elderly Madame Sylvie Guilbert, forced to marry, at 13 years old, a man her father's age, who took her away from France to live as a plantation master's wife; her son Lucien, struggling to keep Le Petite Cottage out of the hands of creditors and impatiently waiting for his mother to reveal a stash of gold she buried long ago; his son Byron, a West Point man in love with his fellow cadet but engaged to a proper Southern lady; and Lucien's daughter, Rosalie – beautiful, like her mother, a field hand Lucien raped in a fit of lust and rage. Others, too, are drawn into the Guilberts' orbit. There's Thisbe, a 16-year-old seized from the slave quarters as a small child and trained to be Madame Sylvie's constant attendant, fluent in French and subject to her mistress's temper and whims, and Jane Chatham, the daughter of a respectable plantation family, whose singular interest is riding her horse rather than becoming a lady. Even this long list is only a sample of the complex web of interconnection Williams-Garcia has woven of a plantation and its people.
The novel's plot comprises the social fabric of their lives rather than some looming crisis or catastrophe (though we readers know the Civil War is about to begin, the prospect of future violence is not our characters' primary concern). Lucien cares for his daughter with a twisted kind of love; he won't free her, but he is proud of her beauty and hopes a strategic marriage may save the plantation. His plans are complicated, however, by the fact that Madame Sylvie won't allow Rosalie in her sight, always spitting venom about her tainted blood. Rosalie, in turn, resents Thisbe for having constant access to her grandmother; Thisbe, long separated from her family by her unique position within the Guilbert household, is desperate to avoid being blamed for any family resentments. The man Byron loves, Pearce Robinson, is coming to stay for a few weeks, fueling rumors about his deviant tastes and pushing his engagement to a crisis point. All of this, and more, constellates around Madame Sylvie's desire to have her portrait painted by a French artist with a royal legacy, though his visit is far from what she expects.
A Sitting in St. James is a compelling, if disturbing, read. Williams-Garcia accomplishes her task by humanizing the slaveholders she writes about – not, I want to make clear, in a way that excuses the atrocities they condone and perpetrate, but in a way that emphasizes how "normal" they were, and hence, how much more appalling their actions. The young girl married against her will, the queer man torn between duty and love: these are the types of characters we often love to root for in historical fiction. But these identities don't negate their complicity in the institution of slavery. This recognition, the novel insists, is necessary for a true reckoning with the realities of slavery and its legacy in contemporary America.
The nature of this novel's aims means that it holds nothing back of the horrors of slavery, including scenes that may be difficult for some readers to face. As a white person, I am not in a position to judge whether these moments are justified, but they do seem to serve the goals of Williams-Garcia's narrative, ensuring that white characters' most inexcusable actions are juxtaposed with their more sympathetic moments. I do think Williams-Garcia follows through on a promise she makes in her author's note, guaranteeing that she will handle this material with care and hope, but readers should be aware that this book does contain graphic depictions of violence against enslaved people, including rape and murder.
Though it's not an easy book, I recommend this nuanced portrait of America on the cusp of the Civil War. Written with depth, nuance, and most of all, respect for the people who bear the brunt of the Guilberts' crimes, A Sitting in St. James insists that we don't turn away from history as it really was.
A copy of this book was provided by the publisher, HarperCollins, for review.