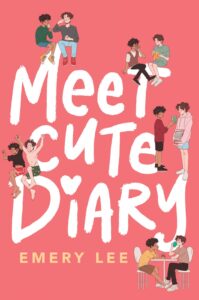 Noah Ramirez is the moderator of the popular Tumblr Meet Cute Diary, a blog that features adorable stories about how trans people met their significant others. It's a job he takes very seriously; the whole motivation for Meet Cute Diary is to help trans people, himself included, believe they can find love, which is why Noah doesn't feel bad about the fact that the anonymous stories he posts are completely made up, inspired by brief encounters with cute boys he wishes would ask him out.
It's part of the reason he's so excited to live in Denver for the summer while his parents shop for houses in California: new city, new Instagram-worthy ice cream parlors to run into boys at… until one user starts posting saying they have "proof" that the Diary's posts are fake. Enter Drew, a swoon-worthy bookstore clerk and fan of Noah's blog, who suggests that they pretend to be in a relationship to prove that the Diary is real.
Soon enough, their fake relationship feels pretty real, which is fine with Noah, who would happily spend all of his time with Drew if it weren't for his summer job at a day camp. As a way to earn money, it's not so bad; the only downside is his annoying coworker Devin, who literally puked on Noah the first time they met. But can Noah's real-life relationship live up to the ones he's imagined for his readers?
Author Emery Lee (e/em) dedicates Meet Cute Diary to "everyone who's felt too mixed, too Black, too queer, or too trans to have a happily ever after," a sentiment that resonates throughout the novel. Readers get a taste of what Noah's followers love about his blog as we watch him explore the cutest date spots Denver has to offer, although the real romance at the heart of the story is far more satisfying. It's a generous and cozy read, one in which we get to see a trans main character loved and supported in his identity, and one that models how easy it is to use someone's preferred pronouns, whatever they may be. There are one or two less open-minded characters in the book, but Noah is shielded from their bigotry – it's his friends and family who step up and make it clear that such behavior is unacceptable.
There's plenty implied, too, about finding the balance between our online lives and our real ones (something I appreciated after watching my little sister live a double life on her phone for a few weeks). It's also a really quick read, one that goes down like delicious rom-com cotton candy. If you're looking for a feel-good, fast, and sweet read, I highly recommend Meet Cute Diary to start off your summer!
A copy of this book was provided by the publisher, Quill Tree Books, for review.