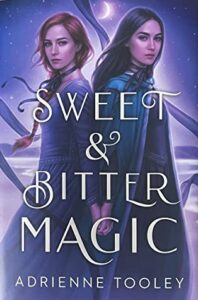 Sweet & Bitter Magic, by Adrienne Tooley, is a young adult fantasy novel that involves a witch cursed to never love, Tamsin, and a young woman named Wren who is hiding her own version of magic. Tamsin is a powerful witch who is banished from the ruling Coven after performing Dark Magic – also resulting in the aforementioned curse. She can get her feelings back, for a little while, by stealing other people's love. Wren is a source – a person who is made of magic even though she can't use it herself. Sources are to report and train with the Coven immediately after they discover their abilities, but Wren refuses in order to care for her sick father and has spent her life hiding her abilities.
A magical dark plague that takes people's memories is consuming the kingdom, and Wren's father is its next victim. In order for Wren to save her father, she makes a proposal to Tamsin: help her catch the dark witch who created the plague, and Wren will give Tamsin her love for her father. Their journey is filled with danger, and as the two girls clash against each other, they may just find what they are both looking for.
Sweet & Bitter Magic allows us to follow Tamsin and Wren on the journey they take to Within (where the Coven resides) to hunt down the dark witch. This novel is full of mystery, magic, and of course, the developing relationship between Wren and Tamsin. As the story continues, we learn more about Tamsin's past, including why she was banished and how she became the cold person she is in the novel. Wren has always put others first – she has always taken care of her father and put her wants and needs second. As she accompanies Tamsin to Within, she begins to feel herself changing, and she comes to the realization that she cannot keep taking care of everyone else while neglecting her own wants and needs.
The enemies-to-lovers romance between Tamsin and Wren is slow to build – it's not until the latter half of the book that Wren makes her feelings about Tamsin known and their relationship starts to form. These two characters did not like each other, but feelings gradually start to develop while they're on their adventure. It was really cute and sweet to see how they each came to terms with their feelings about each other and their heartfelt emotions.
Tooley has written a compelling novel about magic and the power of love. She portrays the guilt and anger that Tamsin feels throughout the novel alongside Wren's duty to her father, including how she puts everyone above herself. I really enjoyed the journey that both characters went on, both physically and emotionally. By the end of the novel, they were different people than when they first started. The reader grew alongside the characters and began to understand them as they went to find the dark witch.
A copy of this book was provided by the publisher, Simon and Schuster, for review.