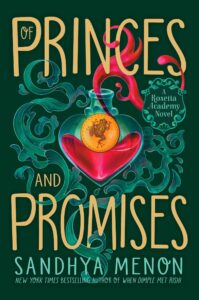 Young love, high society, identity crises, and a sprinkling of danger – that's what Of Princes and Promises brings to the table. This is not the first book author Sandhya Menon has written, nor will it be the last. She's also the person behind the New York Times bestseller When Dimple Met Rishi, which has since been turned into a Netflix series. Menon's specialty is writing YA love stories that feature Indian characters.
Of Princes and Promises features Rahul Chopra, a confused and awkward high school senior who is hopelessly in love with the queen bee of Rosetta Academy high school, fellow senior Caterina LaValle. This is the second book in a series set at Rosetta, and it features some of the same characters that were introduced in the first novel, Of Curses and Kisses. As this book progresses, as you might've guessed, Rahul and Caterina come together in a twist of fate as they take classes and attend high-society events with each other. He desires a relationship, and she's just gotten out of a relationship with her posh ex-boyfriend, Alaric. They bond as they take on dinner parties, galas, and study sessions and even get snowed in at a cabin together. Along the way, they discover a magical pot of hair gel that turns Rahul from a quirky frog to a suave prince (which is Menon's playful take on The Princess and the Frog), find some new friends who might actually be foes, and attempt to figure out who they want to be before they graduate and move on to college.
While this book has some of the quintessential YA tropes, Menon's writing style is uniquely earnest. She manages to tap into the nuanced emotions of young people in a way that helps you identify with them, even if you're not in high school anymore. I will say that sometimes, the various storylines within the book aren't super clear, as they don't seem to gel perfectly together. But in the end, you get what you came for – a grand love story with all the fixings.
I will also say, it is refreshing to see an Indian American at the forefront of a YA novel. So many times, Asian characters are flat – they have one personality trait, and it's their ethnicity. Instead, Menon changes the narrative by showing that characters can be smart, and be in love, and get into adventures, and also be Asian. It's not everything; it's just one thing.
Of Princes and Promises gets a lot right – it is witty, easy to read, fast-paced, and has enough twists and turns to keep you on your toes. It might have one too many twists and turns for your liking if you like your romances simple, but it keeps things exciting. Menon's rich writing style paints a picture for the reader of a love story like no other. It will be interesting to see how she continues to develop the characters at Rosetta Academy in further books of the series.
A copy of this book was provided by the publisher, Simon & Schuster, for review.