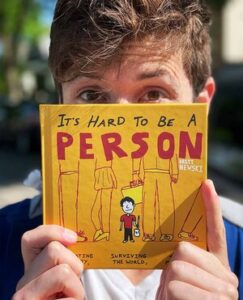 Raise your hand if you have ever experienced anxiety.
Wow, that is a lot of hands.
It's not surprising, though, considering almost 20% of US adults over 18 have anxiety. Personally, mine was under wraps until the summer of 2017, when I went through some pretty traumatic health events. I now live with heightened situational anxiety. It sucks more often than not, but thankfully, we have books like It's Hard to Be a Person to get us through with a modicum of humor.
The book is much less a book than it is a collection of "meme-like" funnies or comics about anxiety, depression, social media, dating, etc. split into three chapters: "Defeating Anxiety," "Surviving the World," and "Having More Fun."
I've traveled with the book over the last few weeks, and every time I sit down to flip through it, I discover something different. There is a delightful page about "canned self-awareness" that I really love and would definitely hang a poster of on my wall. It claims to be "100% safe!" and that it will "improve your soul!" It made me chuckle, and I definitely sent a crappy snap of it to a few friends with a laugh-crying emoji. (I am such a Millennial.)
All of the artwork in the collection was done by the author, Brett Newski, who also happens to be quite the popular quadruple threat. His podcast, Dirt from the Road, deals with many of the same topics as the book, and after checking out a few episodes, I am a convert. I've already purchased two more copies of the book to send to a few friends who I know will love it (I figured I was sharing enough pages over text so may as well get them a copy), and honestly, this book will probably live in my purse/bag for the foreseeable future. Who doesn't need a post–grocery store pick-me-up? It's Hard to Be a Person is perfect for those days when you just need a little humor to make it through.
A copy of this book was provided by Smith Publicity for review.