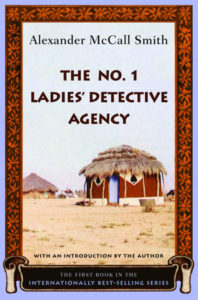 This is the first book in a series by the same name, featuring Botswana's first female private detective, Precious Ramotswe. At this writing there are approximately 18 books in this series, including such interesting titles as Morality for Beautiful Girls, Tea Time for the Traditionally Built, and The Minor Adjustment Beauty Salon.
Botswana is a dry, sparsely populated country in southern Africa surrounded by Namibia, Zimbabwe, and South Africa. Formerly a British protectorate, it became independent in 1966 when Mma Ramotswe was eight years old. In the decades between then and the mid-1990s, when this story is set, it evolved into one of the most successful countries in Africa, with a vibrant economy and lots of modern improvements. Mma Ramotswe (Mma means approximately "Mrs.") is proud of her country, and she is proud to be its first female private detective.
Though this inaugural book of her adventures collects several of her early cases together, including some jobs for rich and powerful clients that help establish her in business, her first big case involves the disappearance of a village schoolmaster's son.
The boy has been missing two years before Mma Ramotswe gets the case. She has little doubt the boy is dead, and she doesn't expect to solve it. But it niggles at her. She senses traditional witchcraft may be behind it, something terrifying to go against, but also a shameful stain on the progress her country has made. Then she gets a lead that may connect the death of this child to one of the most powerful men in the country – the type of man who can make life very difficult for those who cross him.
Along the way she solves the case of a missing husband, finds proof of a cheating ditto, clears up a hospital administrator's suspicions about one of his doctors, solves a case of insurance fraud, and uses her woman's intuition and native resourcefulness to supplement her lessons from a manual of private detection. She gets mixed up with an anxious father and his over-protected daughter. She tracks down a missing dog. She more or less perfects her technique of tailing a suspect, learns to tell a well-turned lie to get information or avoid trouble, and develops a reputation as a woman who can get things done.
Between charming vignettes from the early days of a detective agency are passages describing African life in such sensuous and heartfelt terms, you feel the author's love for the land. You can almost smell the smoke of wood fires in remote cattle stations, taste the dry air of the Kalahari, see the vivid sunsets, and feel a trickle of sweat in the October heat. Though the book's author is now a Scot, this book is a potent reminder he grew up in Zimbabwe, next door to the Botswana depicted here. Like a character in this book's sequel Tears of the Giraffe, he seems to have a heart for Africa.
As for what this book is, it moves along in bite-sized episodes, like a series of short fictions. It sometimes takes a break from mystery to deliver personal memoirs of Mma Ramotswe, her late father, and their country that have the ring almost of lyrical nonfiction. A romance with Mr. J.L.B. Matekoni, a master auto mechanic, and the underlying mystery of the missing boy help tie it all together as a novel. The audiobook narrated by Lisette Lecat, herself an African expatriate with a quiverful of ethnic dialects, puts the last perfection on the experience. I will be visiting Mma Ramotswe's agency again.
Interested? Buy a copy here.