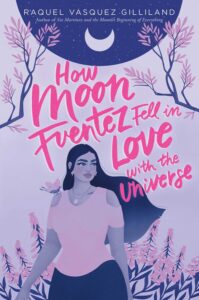 How Moon Fuentez Fell in Love with the Universe, by Raquel Vasquez Gilliland, is a must-read for anyone who loves young adult realistic fiction. Moon Fuentez has resigned herself to her fate as her sister Star's invisible camerawoman. Moon takes and edits pictures of Star for her social media pages and tries her best to stay on their mom's good side.
When Star is invited to spend the summer touring the country with other social media influencers, their mother makes Moon tag along and work the merch table. Also working merch is Santiago – tall, handsome, brooding, and not a fan of Moon. As Moon spends more time working with Santiago and seeing her sister in action, she learns more about who she herself is and what she wants out of life.
I'll do my best to describe all the reasons why I loved this book, but I'm positive I can't use any words as beautiful as Vasquez Gilliland. Her prose is gorgeous, and she easily makes you fall in love with Moon (as she falls in love with the world). The characters are wonderfully crafted, and I loved every minute I spent reading this novel.
Vasquez Gilliland focuses this book on heritage (how Moon and Star got their names is very important for understanding how they were raised), purity, and religion, and she makes incredibly excellent points about these topics. (Also note that there is mention of child abuse, both verbal and physical.) She does such a great job of explaining the complexities of the characters and what they're struggling with that when they make mistakes or hurt one another, you feel for them and want everything to be better.
If you love funny characters, enemies-to-lovers stories, and satisfying character arcs, you will love Moon Fuentez. Don't miss out on this one.
A copy of this book was provided by the publisher, Simon & Schuster, for review.