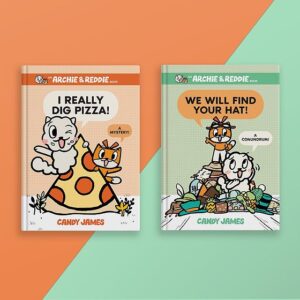 Fans of the Narwhal and Jelly series will love the laugh-out-loud adventures of Archie and Reddie, two fox friends who are always ready to solve a mystery!
I Really Dig Pizza, the first book in the Archie & Reddie series, follows our two friends through the forest—one trying to stop his friend from digging up the pizza he buried to eat later and the other determined to discover what's hidden beneath the fresh mound of dirt in the woods. Archie must decide if he wants to ruin his new friend's investigation or if he wants to do the right thing and share his cheesy present with her.
We Will Find Your Hat reunites our two furry friends just in time for the Big Hat Day party. But there's one problem—Archie has lost his favorite hat! Reddie promises to help Archie, but she soon discovers that this might be a bigger task than she thought. Not only is Archie's house very messy, but he has so many hats to sort through—and Reddie has no idea what Archie's favorite hat looks like. Will the friends make it to the Big Hat Day party, or will Archie's lost hat and messy home make them miss out on the fun?
I loved these books so much! Sometimes it can be hard to be expressive when reading a graphic novel aloud, but my kids had so much fun bringing these silly characters to life and couldn't wait to read what happened next. The text is easy enough that my early-reader kindergartener was able to read most of it on her own, but the story was interesting enough that my fourth-grader asked me to read both books again later in the day.
The easy-to-read text paired with narrative illustrations in tightly packed frames led my kids step by step through the adventures of Archie and Reddie. The pictures aren't overwhelming or loud, and they help elevate the goofiness of the story. And the plot offers a teaching moment in a way that feels fun, which is always a plus in my opinion!
I would especially recommend these books to parents of reluctant readers who might need the extra pictures to help them along, but I think this series would fit well into any young reader's rotation!
A copy of this book was provided by the publisher, Razorbill, for review.