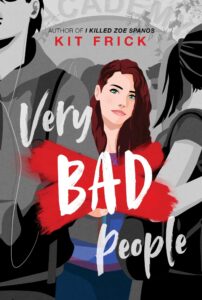 Mystery, secrecy, and shocking twists abound as Calliope Bolan navigates a new school, old trauma, and interwoven histories in Kit Frick's Very Bad People.
Calliope convinces her widower father to allow her to attend Tipton Academy, a private boarding school in upstate New York, six years after her mother's death in a vehicle accident involving Calliope and her sisters.
She remembers little of the accident, but a fleeting glimpse of a stranger in Alyson-on-Hudson her first weekend on campus jogs repressed memories from that fateful night in the car. After that moment, Calliope begins to question everything she thought she understood about her family and the tragedy that changed all their lives forever. Along the way, a secret society and a cast of eclectic characters all pull Calliope in different directions as she tries to understand and define herself while staying true to what she believes is right.
Very Bad People opens strong and never lets go of the quick pace as the story progresses. Within 30 pages, the reader meets Calliope and her family through Calliope's first-person narrative and newspaper clippings detailing the circumstances of her mother's death. After learning more about the night Calliope's mother drove her van off the road into a lake, we are quickly introduced to a new setting and a slew of characters. While it sometimes was hard to keep everyone straight in my mind, that confusion conveyed how overwhelmed Calliope was, and I was drawn to empathize with her as she went through her first days on the new campus.
From there, twists and turns were in every new chapter. Calliope enters a secret society known as Haunt and Rail and takes up social justice fights on campus. When the initiation ceremony unveils an unknown connection between Calliope and Haunt and Rail, she forces herself deeper into the story surrounding her mother's death and uncovers a mystery with seemingly no ending and every possible ending at the same time. As soon as I felt I had figured the plot out, I was proven wrong, and I enjoyed the challenge of reading a mystery I never quite cracked the code of before the end of the story.
Very Bad People was a quick read that still managed to get me thinking about issues of privilege and identity without the book ever feeling like a lecture. The characters were unique and enjoyable in their own ways, and Calliope was a sympathetic but strong main character to follow.
Any reader who enjoys a good mystery, family secrets, or coming-of-age narratives should place Very Bad People on the top of their reading list.
A copy of this book was provided by the publisher, Simon and Schuster, for review.