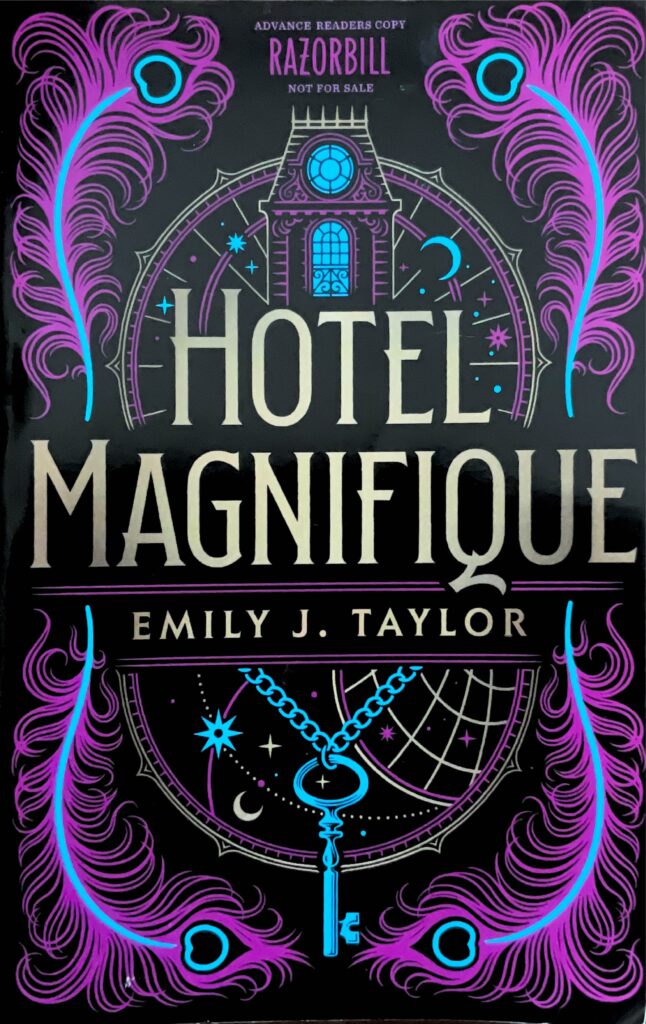 The Hotel Magnifique is coming to your town; are you ready for the most exciting and magical two weeks of your life? There is only one catch: you must sign away your memories of the entire trip upon checkout. When the hotel announces its arrival via the town paper, Jani is over the moon about it. She has been dreaming of a better life for herself and her sister, Zosa, since they came to Durc. However, this time is different; they are not just checking in guests but also hiring for the hotel.
The hotel is known for being the only safe place in the whole world for suminaires, people with magic, and if you want to travel with the hotel, you have to either pay exorbitant fees or work for them. Jani is quickly dismissed at her interview, but Zosa gets an offer to sing at the hotel. When the mysterious Magnifique, Bel, arrives to take Zosa, Jani negotiates a job to go with her sister.
Once they're inside the hotel, things start to get mysterious. Jani soon realizes that the hotel contains far more mysteries than wonders and that there is a dark side to the hotel that needs uncovering to save herself and her sister. She quickly realizes that she is the only person working for the hotel who can remember her past and where she is from, which makes it unclear who Jani can trust within the walls of the hotel. Bel is the only one who knows she can remember things, and though his motives are unclear, he seems very concerned that no one finds out that she has her memories.
As I read the book, I was drawn into the story very quickly, and the intrigue grabbed me as soon as we entered the hotel. The more I read this book, the harder it was to put down. My only complaint about the book is that I felt the author could have explained some of the background of the world a bit better. At times, I would find myself wondering if I had missed a bit of information as the story would unfold. At one point, I found myself flipping back through earlier parts of the book to make sure that I wasn't crazy because the author would drop a piece of information that didn't fit with what I remembered.
As for the characters, Jani sometimes fell a little flat for me, in part because of the issues she had finding out new information. Every time she asked questions, she attracted unwanted attention and often got into trouble. Her inability to investigate what was going on without revealing herself at times made the book feel like the plot was moving slowly. The mystery surrounding Bel also felt like a bit of a disconnect. I found myself not caring what his backstory was because he was so guarded in revealing anything about himself. Beatrice, who is the head of housekeeping, however, was a character I could have read about all day and then some. I found her interesting and loved scenes that included her.
Despite any issues I had with character development, the book does a phenomenal job of introducing characters who are mysterious in a way that makes you want to learn more about them. There is a good balance of suspense that comes from figuring out what happened to Jani's sister, Zosa, and, once you have that answer, from figuring out how Jani will save her. As the story goes on, she finds that there are more people than just Zosa who need her help, and the question becomes how Jani saves everyone, not just her sister, from the sinister maître d'hôtel.
This is a book I would recommend picking up if you get a chance. The author creates a world of magic and suspense that draws you in and constantly leaves you wanting to understand more about this world.
A copy of this book was provided by the publisher, Razorbill Books, an imprint of Penguin Random House LLC, for review.