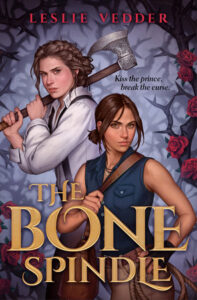 With Leslie Vedder's The Severed Thread coming out in February, I recently read the first novel of the series, The Bone Spindle. For those who aren't familiar, The Bone Spindle is a retelling of a beloved fairy tale. It tells of Prince Briar Rose, who is trapped with his kingdom in the Forest of Thornes, cursed to sleep until he can be woken with a fated kiss. Treasure hunter Fi and warrior Shane are searching through a long-lost ruin when Fi pricks her finger on the Bone Spindle that initially cursed Briar. The spindle forges a bond between Fi and Briar as Shane develops her own feelings for a mysterious witch. In their search for Briar's kingdom in the Forest of Thornes, they encounter exes, secrets, witch hunters, and romance. Will they be able to wake Briar with the destined kiss, or will dark magic and the witch who cursed him win out?
The Bone Spindle is an exciting adventure of friendship, found family, and lots of snark. From giant spiders to curses to crazy plot twists, this book kept me hooked from page one. As a reader who typically doesn't read a lot of fairy tale retellings, I couldn't put this one down. Fi's love of collecting books and riddles from her adventures connected with me on another level as a fellow bookworm. I, too, would be all about collecting fun books and solving epic riddles.
I give this book a very high rating. For me, the only downfall came in the form of character development. While the story was fun and the worldbuilding was well done, I felt like the characters could be better developed. For example, I would love to learn more about Fi's and Shane's backgrounds and their relationships with their families. I would also like to know more about Fi's past romantic relationship that this book alluded to. This could easily be solved in the upcoming sequel as we grow to learn more and more about the characters and their personality attributes.
What I loved most about this retelling was the major gender switch and the LGBT representation. Rather than the cursed character being a woman in need of rescuing, this story told of a man in need of rescuing and two women up for the job. It was also refreshing for the LGBT character, Shane, to be one of the main characters rather than a side character. I enjoyed getting to read from her point of view and learning more about her backstory.
Another thing I liked, and thought Vedder did really well, was switching up the novel's points of view. I got Briar's, Fi's, and Shane's perspectives, which gave me as the reader all sides of the story. It can be challenging to write from multiple perspectives, and I commend Vedder on her ability to write them smoothly and in such detail. It always felt like I was truly reading from that character's perspective, not just a general telling of events. I will say that while all points of view were showcased, Fi's side of the story seemed to get the most attention. Therefore, Fi felt like the leading main character, and I seemed to be hooked on her storyline a little bit more than the others.
Harry Potter fans will enjoy the magic throughout this entire book, and I am not just talking about the witches. There is magic and adventure on every page, and the characters are incredibly relatable; every reader will find someone to connect to. Harry Potter fans will also enjoy the story of friendship and the found family trope. They will all be saying, "Why couldn't it be 'follow the butterflies'?" by the end of it.
A copy of this book was provided by the publisher, Penguin Random House, for review.