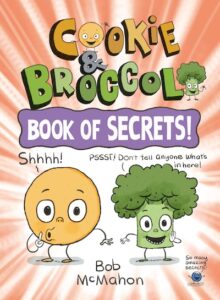 Cookie and Broccoli are best friends and full of secrets in this third book in the Cookie & Broccoli series. I will be truly honest with you, reader: I have never read this series before, and I chose this installment primarily because my children have been very into graphic novels lately and it seemed like it would be a humorous story to enjoy with them.
When I started the book, I wasn't sure what to expect. The characters were established, and I wondered if I was going to miss something by coming in at the third book (even if this is a story for young children). There was no reason to be worried, however, because in reality, each "chapter" reads like an independent story. Also, this is a story for younger kids, so there is no backstory to remember. As the title implies, the book covers different types of secrets and how Cookie and Broccoli solve them. First, there is "Broccoli's Big Secret." Then there is "The Secret Cure for Boredom!" And finally, there is "Secrets of the Scary Forest."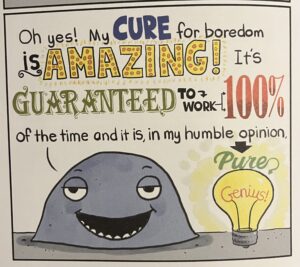 By far my favorite part of the book is the chapter on how to avoid boredom. As a mom, I hear the phrase "I am bored!" way too often, and that is probably why I found this particularly hilarious to read. The Talking Rock gives Cookie and Broccoli the "cure" by telling them to solve a riddle, which is absolutely guaranteed to work 100% of the time! I wonder if it would have worked had I read this without my kids and tried it on them, but I guess I will never know.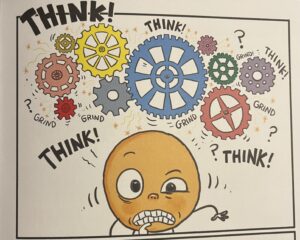 The premise you are asked to accept is that all the characters are food. From the Blueberry that follows Cookie and Broccoli around to the Steak that literally looks like raw meat, you just accept that they are all alive and able to talk. My kids really enjoyed the little Blueberry's commentary as the book went along. However, I had issues with the fact that you're supposed to accept that the Rock is alive but not trees or other inanimate objects. And while I know that all the characters are food, the idea of a walking, talking piece of meat disturbed me a bit. My kids were also weirded out by the teeth on the characters, though this did not bother me in particular.
Overall, I felt the book was cute and full of humor. The characters were charming and entertaining and had an energy to them that was perfect for younger kids. My kids and I were definitely laughing as we read. If you have a young one you want to introduce some fun characters to, then I highly recommend this book as one that any young reader will enjoy.
A copy of this book was provided by the publisher, Dial Books for Young Readers, an imprint of Penguin Random House, for review.