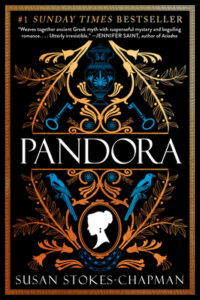 Once more, I find myself sheepishly holding a book close to my chest, and once more, said book happens to take place in a time so far away from the modern era we're stuck in – the 18th century, to be specific.
Pandora, by the wonderful Susan Stokes-Chapman, follows Pandora "Dora" Blake, a young woman who has an immense desire to be a jeweler, and Edward Lawrence, a struggling bookbinder who longs to be a part of the Society of Antiquaries. Our two protagonists meet thanks to Dora's uncle, Hezekiah – who just so happens to be one of the main players in this tale of mystery, magic, deception, and duplicity.
We start off knowing that Dora, sadly, lost her parents eight years prior to the beginning of the story. It's thanks to this awful event that her uncle takes her in and continues the family's once-famed business of antiques. Those eight years go by as well as one could hope, despite Dora and Hezekiah having a relatively strained relationship.
However, everything changes when a mysterious package containing a vase arrives, causing her uncle to behave in the oddest of ways. Oh, and the vase also ends up getting locked in the basement – nothing new, nothing new. This is when Dora's piqued interest starts to mount even higher than it should – at least, according to her uncle – and this is where dear old Edward comes in.
Now, these two have two very different agendas. Dora thinks that this strange vase will help in her endeavor to establish her own name, while Edward hopes against hope that this will be the golden ticket to his scholarly dreams. But the more they dig into this mystery, the more they find out that things aren't as they seem. Mistrust and misdeeds, lies and half-truths, confusion, and apprehension – they all tangle in this awfully disjointed fray that leaves Dora with a truth she isn't quite ready to accept.
Quite frankly, I'd say that this book went against my expectations in a rather fun way. Coming into this, I expected that this would be filled with Greek mythos, and while it does have that – hence the whole "Pandora" gist – it isn't too on-the-nose about it, which was, again, unexpected but welcome.
Stokes-Chapman does a brilliant job of casting Georgian England in an immersive glow as we trek along with our two protagonists in this world filled with treachery, greed, and everything you'd expect of the darker half of humanity as a whole. And these two – Dora and Edward – are honestly absolutely brilliant. An unlikely pair? Absolutely. Do they have any similarities besides the interest in antiques? Absolutely not. Is their relationship a wonderfully slow thing that flourishes into beauty? Absolutely yes.
The worldbuilding is fantastic, the characters are brilliantly fleshed out, and the entire world is simply a lovely place to bask in. If you're a fan of history and Greek mythos, of great characters and interesting story plots with great spins, I'd highly recommend Pandora.
A copy of this book was provided by the publisher, Harper Perennial, for review.