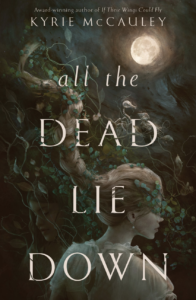 All the Dead Lie Down, by Kyrie McCauley, is a wonderfully dark queer horror novel. The story follows Marin Blythe, who is moving into Lovelace House as a nanny following her mother's tragic death. Lovelace House is a gorgeous old estate located off a peninsula in New England. The house is inhabited by famous horror novelist Alice Lovelace, her three daughters (Evie, Wren, and Thea Hallowell), and their caretaker, Neera. Alice invited Marin on as Wren and Thea's nanny since she and Marin's mother, Cordelia, were childhood best friends. After the girls' father's death the previous year, they became more unruly and drove every previous nanny away. The girls' strange behavior starts almost immediately, escalating from harmless pranks to (almost) attempted murder. Soon, the eldest sister, Evie, arrives home, having received an urgent letter from Wren. The more Marin entwines herself in the Lovelace-Hallowell family, particularly Evie, the more she learns the true meaning of what Wren told her: "Everything stays at Lovelace, down to the bone."
This novel was simply incredible. Once I started, I couldn't put it down. It was advertised as a novel for those who are fans of The Haunting of Bly Manor, one of my favorite horror TV shows (albeit I love Hill House more), and the inspiration was very clear. The slow unraveling of all the mysterious secrets held by the family, and the confines of their secluded property, left me hooked until the very end. While, at times, I felt the story was getting too similar to Bly Manor, I can happily say the uniqueness of this story shines through. The "slow burn" nature of the gradual horrors unfolding was done perfectly, and I think the Bly Manor writers would be equally impressed. Given that this story was compared to one of my favorite shows, I had high expectations, and this novel exceeded them.
Of course, it wouldn't be a proper review without commenting on the queer aspect of this novel. Queer horror is my favorite genre, and McCauley wrote the budding queer romance between Evie and Marin perfectly. Their love story is beautifully depicted as they find solace in the horrors and grief they experience through one another. This book was an amazing read, and I will be looking into the author's other novels. If any part of this review piques your interest, then you must read this book. I promise you will not be disappointed.
A copy of this book was provided by the publisher, Katherine Tegen Books, an imprint of HarperCollins, for review.