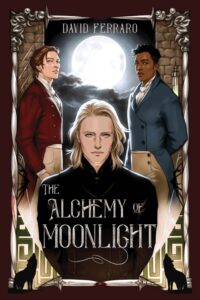 The Alchemy of Moonlight follows Emile, a 17-year-old trying to get by until he can rightfully claim his inheritance. When he runs away to pose as a servant to evade his aunt, things go awry, and nothing is quite what it seems in this queer gothic romance. Emile is faced with trying to discover the secret behind Count Montoni and his niece and nephew, and why people keep disappearing from the property.
This book always surprised me. From the direction the plot took to the decisions Emile made, I never really knew what was coming next, which was a nice surprise. Many books today can be predictable, and The Alchemy of Moonlight didn't follow that mold. I definitely guessed some of what happened, but more often than not, I was left in shock over what Emile was going through and wondering what would unfold next.
There was a paranormal subplot. It was pretty enjoyable and my favorite part of the story. I haven't read a lot of the genre, but the lore presented wasn't something I'd seen in other books. So many seem to reuse the same characteristics or tells, but there was a clear effort to be different, which I appreciated. That said, I do wish we'd reached the reveal a bit sooner, as it felt like the hints carried on just a bit too long.
As for the romantic side of the plot, I never knew which side of the love triangle to root for. Each made sense in its own way, and all the individuals involved had their strengths and flaws. That said, the way the love triangle turned out in the end was a pleasant surprise, as I haven't read a book with an ending like it before.
The one thing I didn't care for was the dialogue. There were times when it felt pretty clunky or didn't really match the time period. There were several lines that sounded like they came from a popular streaming series rather than a period piece. Sometimes this took me out of the experience, but ultimately, it didn't stunt the plot and could be overlooked.
The Alchemy of Moonlight is a wonderful debut novel. I think it has something for everyone, from romance to action to intrigue. Despite being categorized as a young adult book, I think it could easily be something an adult reader would enjoy, especially fans of the classics, like Frankenstein and Dracula.
A copy of this book was provided by the publisher, Page Street Publishing, for review.