Kayden's mission should have been simple – she was sent to kill the prince . . . not to fall in love with him.

Within the palace walls, Kayden has discovered that things are not as she expected. Is there more to the royal family, or . . . is there a more sinister depth to Drey's mission?

Dvarius thought his mind was made up – but will he have the resolve to see it through?

Between attacks from outside the palace – and within, will the Prince live long enough to choose his Queen?

And will Kayden choose to follow her head . . . or her heart, knowing that her decision could very well make her a target as well! ~ A Treacherous Decision publisher summary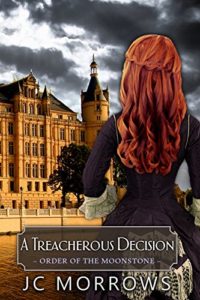 J.C. Morrows does it again. A Treacherous Decision is a wonderful follow-up to book 1 of the Order of the MoonStone series, a dystopian story set in a future U.S. that looks a bit more like the past than the present. Seriously, if you haven't picked up these books yet, they are the NEXT BIG FANDOM!
Without spoiling the plot, A Treacherous Decision picks up right where book 1 ends, and we get to see how the prince reacts to Kayden's actions in the closet (I'll leave it at that for those who haven't read book 1 yet). There are many un-spoken secrets that hang in the balance, any one of which could blow-up any chance of Kayden and Dvarius having a future together.
Kayden and Dvarius are wonderfully written characters with unique voices that captivate the reader. If you are looking for a great fandom to get a bit lost in, this is the book for you.
Disclaimer: An ARC was provided by the author for my honest review. I was not paid for this review.