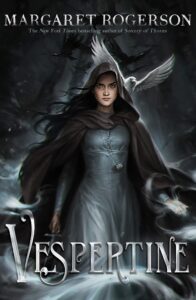 New from bestselling YA fantasy author Margaret Rogerson comes Vespertine, Rogerson's third novel.
The story centers on Artemisia, a young girl with a dark past trying her hardest to fit in while training to be a Gray Sister, a nun who cleanses dead bodies so they can move on. If bodies aren't cleansed, they rise as spirits ready to prey on the living. However, Artemisia's quest to quietly fit in takes a turn when her convent is attacked by possessed soldiers.
Through luck and bravery, Artemisia fights off the attack by awakening an ancient spirit, called a revenant. The spirit comes with a bloodthirsty past and constantly seems one moment away from possessing her. Together with the revenant, a reluctant sidekick, and allies found along the way, Artemisia must fend off danger while unraveling a mystery of centuries-old magic, religion, and war.
Vespertine grabbed ahold of my attention early and never let go. The breakneck pace of the plot, matched with the ever-involving characters, made the story feel constantly fresh and different. Rogerson's skill in worldbuilding shines in Vespertine. Readers are transported into a world where magic and religion blend and nothing is as it seems. The eerie halls of convents and cathedrals seemed to almost whisper through the pages. At the beginning, I knew nothing about Artemisia's world; by the end, I found myself caring for it as much as she did.
The worldbuilding in Vespertine might have been second only to the character development throughout the story. We first meet Artemisia as a scared, closed-off girl trying to simply make it to the next day. Her transformation into the fearless, courageous fighter she becomes by the end of the book was easily one of my favorite character arcs of this year.
But Artemisia is not the only character who makes Vespertine worth reading. Marguerite is the sidekick I never knew I wanted in a fantasy novel. Her own arc mirrors that of Artemisia, and though neither of them cares to admit it, they balance each other perfectly. The rotation of nuns and other clergy members the reader meets, all with their own secrets, serve as captivating foils on Artemisia's journey.
If you're a fan of mystery, fantasy, and exhilarating pace, you will definitely want to add Margaret Rogerson's Vespertine to your TBR list.
A copy of this book was provided by the publisher, Simon and Schuster, for review.