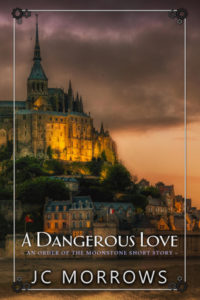 The Order of the MoonStone series continues with A Dangerous Love, a short story about the meeting of Dvarius's parents. If you've been keeping up with the books and in-between books, you'll know that a lot has been alluded to about the love of Dvarius's parents, but we haven't received the full backstory until now.
A compelling stand-alone love story, this is a great addition to the series, and will both satiate the hunger of fans waiting on the third book of the Cinderella-Assassin story and drive us to want even more. J.C. Morrows has created a world that fans want to get lost in, explore, and be part of. I can't speak for all readers, but this one can't wait for Book 3 of the MoonStone series to be released. When Dangerous Love was sent to me by the author for review, I was so excited because I find I can trust J.C. Morrows to write compelling stories that I can't get enough of.
If you are looking to invest yourself into a new series, I strongly suggest this dystopian romance. I mean, who doesn't want to read a Cinderella story with a twist where Cinderella is an assassin not after the Prince's heart but his life?
A copy of this book was provided by the author, J.C. Morrows, for review.