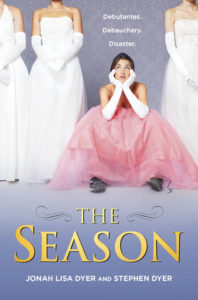 The life of college junior Megan revolves around soccer, but her dreams of becoming a professional are threatened when her mother secretly registers her to be a Bluebonnet debutante – the most elite debut for young ladies in all of Texas. To avoid causing family strife, she attempts to conform to Bluebonnet's exacting standards while finishing her soccer season. Being a part of both isn't easy, especially when you throw in some catty colleagues and two very handsome boys.
The Season strikes an unusual tone for a YA novel. Megan and the other characters in the book are older than the typical 16- or 17-year-olds that populate most books in the genre, but – besides the fact that Megan and her sister openly talk about and engage in sex (though nothing graphic) – it is definitely a book aimed at teenagers and not adults. This may bother some readers, but I actually think it could be a good thing for teens. Books that look forward to what their years in college might be like have a strong appeal for teenagers looking for some exploration of what their impending independence might look like. I also appreciated that it treats sex as something normal that girls talk about and engage in for fun – a reality for many young women that nonetheless is not often addressed in fiction written for them.
Moving on from that, I do think the book is less successful in other ways. It bills itself as a loose Pride and Prejudice retelling, but the comparison doesn't really hold up. For me, it's the fact that I don't really "get" either of Megan's relationships, either with the Wickam-esque character Hank or the Darcy-like Andrew. The buildup of those romances just isn't there – it's like the fact that The Season is a P&P retelling dictates why these characters pair off and break up, and nothing else. It was weird.
The book also has some strengths, mainly the vividness with which the authors conjure Dallas high society. This novel is as much about a world I've never been to as any fantasy with dragons and wizards; the idea of spending thousands of dollars on dresses and parties for a debut season is utterly alien to me. I've read historical novels about debut seasons, and have seen that one episode of Gilmore Girls where Rory is forced into a debut…but this is a whole other ball game entirely. As an adult, I find the flagrant spending of Megan's family fairly distasteful, but others might find the idea of such a world intriguing.
Ultimately, the plot is predictable, but if you like both ball gowns and the state of Texas, you might enjoy this book as a thoughtless summer pastime.
A copy of this book was provided by the publisher for review.