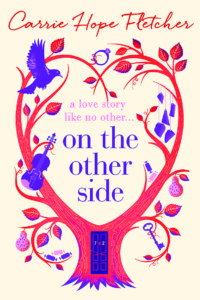 Sunday Times bestselling author, award-winning actress, beloved vlogger, proud Gryffindor… it's no wonder that Carrie Hope Fletcher is adored by thousands of fans around the world. Following her passion for stories and creative writing, she's now back with the release of her debut novel, On the Other Side.
When 82-year-old Evie Snow dies peacefully in her sleep, she finds herself back at her former apartment building in her younger years and unable to reach her personal heaven. Upon discovering that her soul is too heavy to move on to the afterlife, Evie realizes she must unburden the secrets of her past life that have weighed her down for over 50 years. On the Other Side is a magical tale about finding love in unexpected places and how to make the best of every situation.
Admittedly, I'm in two minds about this book. While I found some of the plot points rather odd and ludicrous, there's no denying that Fletcher has a talent for creating vivid characters and descriptions that draw the reader into the story. The timeline between past and present switches with ease, and her inclusion of gay, bisexual, and pansexual characters makes for a welcoming read. However, there were points where I felt that further editing is required to spruce up the book – reducing the "telling rather than showing" parts, recrafting awkward sentences, and fixing typos.
But overall, On the Other Side will capture the hearts of those in need of an uplifting story full of sweet words of wisdom. Much like Fletcher does in all her works, Evie reminds us to always be true to ourselves, open-minded, and a little bit adventurous.
A copy of this book was provided by the publisher for review.