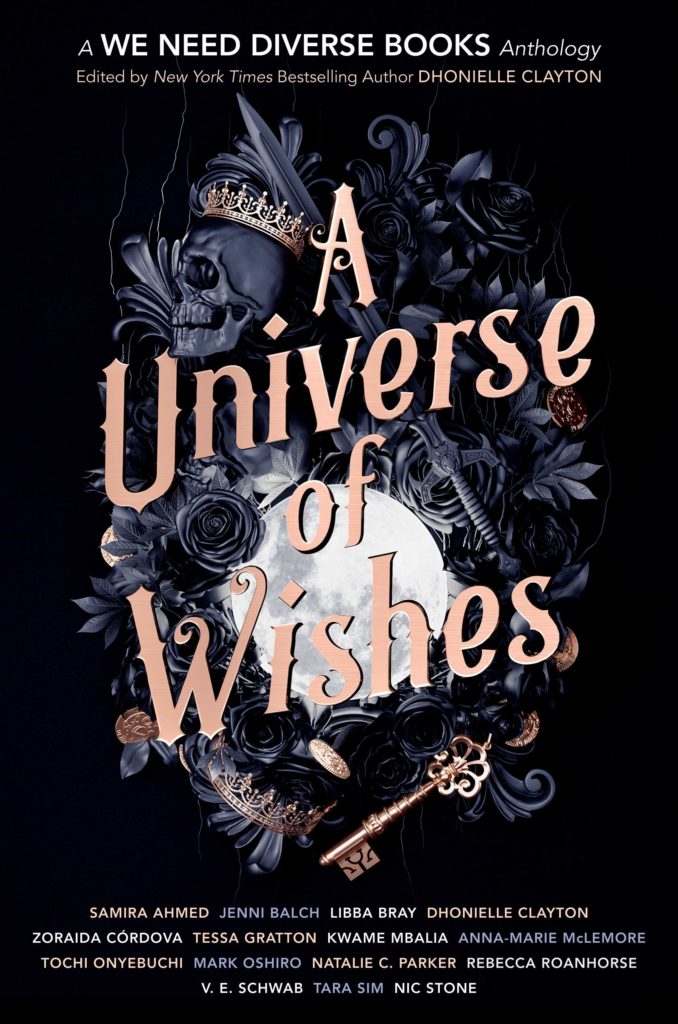 A Universe of Wishes is the fourth We Need Diverse Books (WNDB) anthology, bringing together short stories by 15 award-winning and bestselling authors. The anthology's title, which juxtaposes the speculative possibilities of the otherworldly with the promise of enchantment, alludes to not only the book's focus on the science fiction and fantasy genres but also the spirit of the WNDB movement: to highlight and celebrate a whole universe of inclusive narratives, ones for which readers have been pining for a long time.
The featured authors include Samira Ahmed, Jenni Balch, Libba Bray, Dhonielle Clayton, Zoraida Córdova, Tessa Gratton, Kwame Mbalia, Anna-Marie McLemore, Tochi Onyebuchi, Mark Oshiro, Natalie C. Parker, Rebecca Roanhorse, V.E. Schwab, Tara Sim, and Nic Stone.
Some of these authors were ones I was already familiar with, some were writers I had heard about but had not yet gotten a chance to read, and others were completely new to me. I imagine that breakdown will be similar for many readers, and I can attest that it makes for a satisfying reading experience – excitement for what beloved authors have to offer is paired with the thrill of discovery as you encounter new favorites along the way. To preserve that thrill for future readers, I'll focus this review on a sampling of stories to give you an idea of the range contained in A Universe of Wishes, leaving others for you to discover on your own.
I've come to know Kwame Mbalia's work through his Tristan Strong series (which I love), so I was interested to see him writing about different characters and worlds. His contribution, "Liberia," chronicles a tumultuous episode on a colony spaceship crewed by young people, the envoys of their ancestors to a new world. The central character of "Libera" is Kweku, the ship's research officer in charge of plants in agriculture. Even light-years away from home, Kweku's guiding light as he cares for the cassava plants that will nourish the new colony is his Nana's wisdom – indispensable in Kweku's time of greatest need. I was really struck by Mbalia's artful weaving together of past and present, emphasizing the ways in which we carry forward our past into our present, and how this grounding in love and culture is vital for our happiness and survival.
Rebecca Roanhorse's (Trail of Lightning, Race to the Sun) story, "The Takeback Tango," deals with similar themes but through the vehicle of an exciting heist story. Vi's home planet was conquered years ago by the Imperium, an organization fueled by greed and hate. As if wiping out her planet and culture wasn't enough, the Imperium displays many of its spoils in the Museum of Conquered, turning sacred objects and history into curiosities for oppressors. Vi is determined to steal her world's artifacts back, but things get complicated when she's intercepted by a boy she isn't sure she can trust. I loved not only the Ocean's Eleven feel to this story but also the way it centered the strength and resilience of its female pirate while provoking consideration of what it means for us to look at "cultural artifacts" in museums without considering the context of how they came to be there. Roanhorse's story may take place in the far future, but the issues she raises are ones we need to grapple with now.
Some stories were more fantasy than science fiction, like Anna-Marie McLemore's "Cristal Y Ceniza," a Cinderella retelling in which the main character must infiltrate a neighboring country's royal ball, not for curiosity or true love, but to beg for sanctuary for her family, persecuted for whom they love. Not that romance doesn't play a role – the more inclusive understanding of love, gender, and sexual orientation she encounters in the nearby kingdom offers more hope than she dared to look for. Another author who takes the fantasy route is V.E. Schwab, whose offering will be very welcome (if heartbreaking) to fans of her Shades of Magic series: "A Royal Affair" explores the ill-fated early days of the romance between magician Alucard Emery and Prince Rhy Maresh.
The other narratives in A Universe of Wishes remix and recombine every type of speculative story you can imagine, from romances tinged with magical realism to fairy tales made more fantastic by their radical inclusivity – though we shouldn't lose sight of the fact that part of WNDB's mission is to make this type of representation radical no more but instead part of what we expect and demand from the books we read.
I am not usually a big reader of short stories, but A Universe of Wishes was completely engrossing. I highly recommend it for flights of fancy, adventure, love, imagination, and hope to all corners of our own diverse universe.
A copy of this book was provided by the publisher, Crown Books, for review.