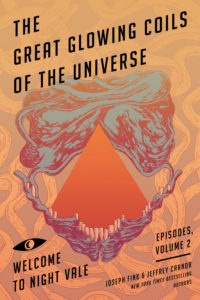 Last year's novel Welcome to Night Vale introduced the cult hit podcast to a whole new audience (not to mention giving devoted fans a longer narrative to chew on). Now, two volumes of episode transcripts (along with special new bonus material) have also been released in print. Mostly Void, Partially Stars and The Great Glowing Coils of the Universe collect episodes from the first and second year of the podcast's existence, respectively.
Some might question why a show that has been so tremendously successful in its original medium would want to publish a collection of episodes in an altogether different medium, but I, for one, am a fan. Many of my friends are devoted disciples of Night Vale, but I could never really get into it, mostly because podcasts just aren't my thing. With these two printed volumes of episodes, I could finally see what I was missing.
Through reading these volumes, I learned what most people interested in buying them already know – that Night Vale is silly and entrancing, and it's easy to get caught up in the mythos of this strange little town. A highlight of the books for me was the interspersed commentary from the show's creators, Fink and Cranor, about specific episodes and events in the history of Night Vale's growing popularity, and from members of the show's main cast – Cecil Baldwin, Dylan Marron, Kevin R. Free, and others.
Even so, I have a feeling that those most enamored of the podcast might find these a little lackluster. Even I can recognize the hypnotizing power of Baldwin's dulcet tones, and if podcasts are your thing, I can imagine that Night Vale will lose a little of its shine when transferred to the printed page. On the other hand, they do make the show's text readily available for easy reference, which is sure to be appealing to Night Vale's many devotees.
Copies of these books were provided by the publisher for review.