Crooked Kingdom – When you can't beat the odds, change the game.
Calling all Grishaverse fans! It's nearly time for the nail-bitingly anticipated sequel to the #1 New York Times bestselling heist story Six of Crows. Join us on the Crooked Kingdom blog tour as author Leigh Bardugo shares what she loves about our tour stop character, Nina Zenik. See which moments from Six of Crows MuggleNet has picked as our top six things about Nina that capture why we love the voluptuous Grisha with a heart of gold and grit so much. PLUS enter the Crooked Kingdom blog tour prize giveaway in the comments below.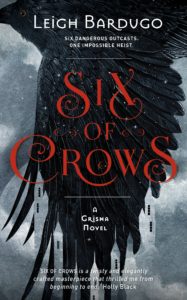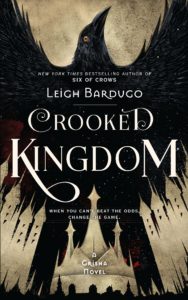 "Previously on 'Six of Crows' we met six dangerous outcasts and watched as they took on one impossible heist. Having pulled off the impossible at the notorious Ice Court, Kaz Brekker and his crew were left double-crossed, low on resources, and crippled by a kidnapping. Now powerful forces from around the world descend on Ketterdam to root out the secrets of the dangerous drug known as jurda parem, whilst Nina fights off its powerful effects. Old rivals and new enemies emerge to challenge Kaz's cunning and test the team's fragile loyalties. In 'Crooked Kingdom', a war will be waged on the city's dark and twisting streets―a battle for revenge and redemption that will decide the fate of the Grisha world."
We're on the edge of our seats with anticipation…and a little nervous about what's in store for our beloved Crows!
******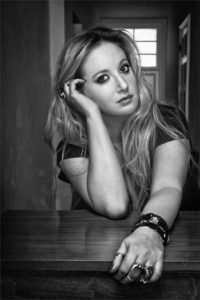 So why do we love the Crow that is Nina Zenik? Leigh joins us on the blog to explain one of the biggest reasons why Nina means so much both to her and to her fans:
"I've been surprised at how many people have reached out to tell me how much they love seeing a 'plus size' woman as a YA action hero and love interest. Honestly, it bums me out a bit because the idea of a fat, sexy girl who kicks ass shouldn't be that surprising. (And respect to Julie Murphy, Becky Albertalli, and Rae Carson who have all written big heroines I adore.) We internalize a lot of false ideas about what you're supposed to look like to be healthy, or loved, or successful, or tough. Nina doesn't have time for that nonsense, and neither do I."
As we Potterheads have had much to say over the years about the power and importance of representation on the page, we couldn't agree more with Leigh's Nina appreciation.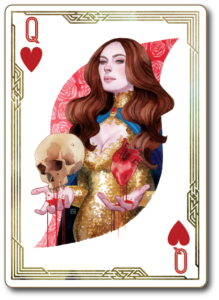 Here are our top six reasons that MuggleNet loves Nina Zenik, the courageous witch who uses her wits and magic to survive terrible odds.
1) We first meet Nina through the eyes of Kaz, and our first impressions in Chapter 5 definitely reiterate what Leigh has to say. Nina is big, proud, and powerful. With this incredible description, we love her for representing fat, proud, confident women. 
"Nina Zenik stood behind him, swathed in the red silk kefta that advertised her status as a Grisha Heartrender…She was tall and built like the figurehead of a ship carved by a generous hand."
2) We also love Nina's patriotism and loyalty, which are marked by her kind heart and fierce protection of her homeland:
"Nina loved her country and loved her people. She still believed in the future of Ravka and the Second Army, the Grisha military elite that had nearly disintegrated during the civil war. Nina's friends back in Ravka believed she was dead, a victim of Fjerdan witch-hunters, and for now, she wanted it to stay that way."
Tied into this is the knowledge that no matter how much she may want to see her family, the loyalty of her heart belongs to one man and the past wrongdoing she has sworn to put right:
"Desperate as she'd been to return to her country, she'd known she couldn't leave Matthias to languish in Hellgate."
3) Passion is definitely a strong element of Nina's character, and she blows Shakespeare out of the water with her love story. Move over Montagues and Capulets – Nina is one half of a Grisha and druskelle romance that puts the con in conflicted.
"She wouldn't wish love on anyone. It was the guest you welcomed and then couldn't be rid of."
Witch-hunter Matthias has some mighty tangled thoughts when it comes to his emotions around seeing Nina again:
"Traitor, witch, abomination. All those words came to him, but others crowded in, too: beautiful, charmed one. Roed fetla, he'd called her, little red bird, for the color of her Grisha order. The color she loved."
But of course, Nina often has some rather splendid flirtatious put downs to keep him in his place when he's being difficult.
"Nina batted her glossy eyelashes at him. 'You wouldn't know a good time if it sidled up to you and stuck a lollipop in your mouth.'"
Their war of words fools no one, not even themselves! Swoon.
4) Magic and Grisha powers are a huge part of Nina's character and upbringing. Magic as medicine isn't strictly speaking part of Nina's skillset as a Grisha Heartrender, whose responsibilities are more war and less recovery. But Nina understands enough about the magic to manipulate her powers to heal, and she is responsible for holding the Crows together, sometimes literally.
"Healers learned the intricate work of healing wounds, whilst Heartrenders became soldiers – experts at doing damage, not undoing it. It was a different way of thinking about what was essentially the same power…Nina wished her own school training hadn't been so abbreviated."
5) Friendship is another of Nina's wonderful attributions, and her close relationship with the Wraith Suli girl Inej is a fan favorite. Female friendship is always well worth celebrating in fiction. Not only do their conversations pass the Bechdel test, but they also team up to save the Crows when the going gets tough. The Heartrender and the Wraith are an excellent pair (shout out to the shippers!) One of our favorite lighthearted scenes occurs after exchanging some personal history, bonding over hopeless and stubborn men, and a small instance of saving her life, when Inej requests Nina to sing:
"Nina snorted. 'Only for you, Wraith.'"
6) Most importantly, Nina is a survivor. She escapes the clutches of slavers, survives in the freezing cold and drags a reluctant Matthias along with her, puts up with the dangerous exploits of the Crows, and at the end of the day, she's the one using her incredible powers to save the day, time and again. We're not giving a quote for this – you'll just have to read Six of Crows and Crooked Kingdom to see Nina kicking butt!
Nina Zenik is a seriously impressive woman. We dare you not to fall in love with her. Need more convincing? Check out the amazing Nina fan art that Leigh has reblogged on her Tumblr.
******
COMPETITION TIME!
From September 21 to September 26, bloggers in the US and UK will be paired up to share the secrets of Kaz's crew as we count down to the publication of Crooked Kingdom.
But wait. There's more! Enter to win a Crooked Kingdom prize pack full of US AND UK swag (including the coveted Crooked Kingdom socks) by commenting on all 12 blog posts by 11:59 p.m. ET on Monday, October 3, 2016.
About Leigh: Born in Jerusalem, Leigh grew up in Los Angeles and is a graduate of Yale. She has written for 20th Century Fox and LA Weekly, among others. For more in the Grishaverse, read the original trilogy: Shadow and Bone, Siege and Storm, and Ruin and Rising.
Find the world of SIX OF CROWS and CROOKED KINGDOM at www.grishaverse.com, and follow Leigh on Twitter @lbardugo #SixOfCrows #CrookedKingdom