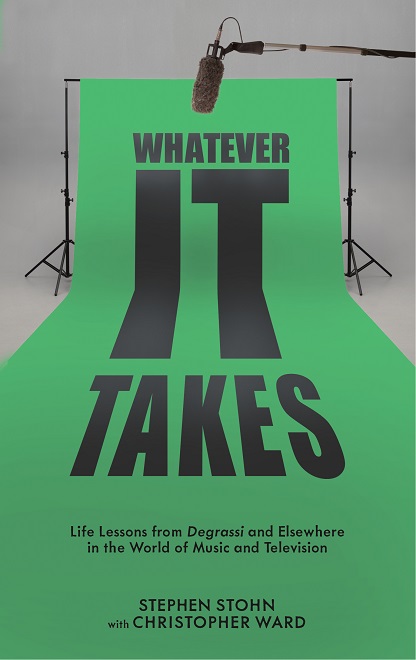 The theme song for the long-running Canadian teen television show Degrassi states, "Whatever it takes, I know I can make it through," and no one seems to understand that better than executive producer Stephen Stohn. In his book Whatever It Takes: Life Lessons from Degrassi and Elsewhere in the World of Music and Television, Stohn not only discusses what it has been like behind the scenes of North America's longest-running teen television drama series, he also provides a glimpse into his career as an entertainment lawyer, as well as the failed endeavors he's had along the way.
As an American living in Toronto and a fan of the Degrassi franchise, I thought that I knew most of what there is to know about the show. Little did I know that Degrassi is only a small piece of a much larger journey. Stohn takes his readers back in time from the news of Degrassi's cancellation by Viacom in 2015 to his own time as an aspiring musician in 1970, having formed a band with his friend (and contributor to the book) Christopher Ward. (At the book's outset, it's difficult to believe that a trip to reach Nepal in a Volkswagen van could have anything to do with a television show that focuses on the lives of high school students, but Stohn—quite entertainingly—weaves together how one experience has led him to another.)
Given his work as an entertainment lawyer, Stohn devotes a large part of the book to his role in developing artists such as k.d. lang and the evolution of the Juno Awards (the Canadian equivalent of the American Grammys), providing anecdotes about the trials and tribulations of negotiating business deals. Even though it is clear to see that things have worked out all right for Stohn, he retells his experiences in such a way that puts the less-than-ideal moments back into perspective.
As Stohn winds his way back to the fictionalized Degrassi Street, he does not sugar-coat; it was because of the cancelation of a different series—the soap opera Riverdale—that he and his wife and business partner, Linda Schuyler, were brought back to the world of Degrassi at all.
Stohn also covers pivotal moments from the series. One such instance is the episode "Time Stands Still," in which character Jimmy Brooks (played by Aubrey Graham, now better known by the stage name Drake) is shot by fellow Degrassi student Rick Murray (Ephraim Ellis). In his explanation of the behind-the-scenes process that allowed for such a heavy plotline to make it to the screen, it is clear that Stohn—as well as the rest of the show's cast and crew—is willing to take those steps to ensure that the stories that are told on Degrassi are as true to real life as possible.
That authenticity isn't just something that plays out on screen; it's clearly at the heart of Stohn's decisions and those of the people with whom he has worked over the years. In spite of his successes, the tone with which Stohn writes is never patronizing. His stories are informed by decades of experience in the music and television industries, yet he is able to look back and laugh at himself—and leave his readers laughing, too.
In all, what I expected was a book about a television series for which I am slightly older than the target audience. What I found, on the other hand, was much different: an inspiring and witty tale—punctuated by some Canadiana and a few mishaps—that is tangible proof that the words of the Degrassi theme song really do hold a nugget of truth.
A copy of Whatever It Takes: Life Lessons from Degrassi and Elsewhere in the World of Music and Television was provided by the publisher for review.
Now for the giveaway! You can enter for a shot to win your very own copy of Stohn's book by entering our contest below. If you choose not to take a chance and would like to purchase the book for yourself, you can purchase the book here.
Our contest will run from March 27 through April 10 and is open to all residents of the US who are 18 years of age and older. The winner of our giveaway will be contacted via email and must respond within 24 hours, or another winner may be chosen.
What are you waiting for? Do #WhateverItTakes to win!