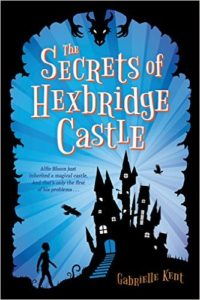 Alfie Bloom is a pretty normal kid (with the exception of his inventor father) until he receives a letter telling him that he's inherited Hexbridge Castle. From that point forward, things are decidedly not normal: Alfie finds he can slip through time, he and his father are flown to a secret location to meet with an otherworldly lawyer, and the castle itself seems…magical. But even magic castles have their dark sides, and Alfie is about to discover Hexbridge's.
The Secrets of Hexbridge Castle is a middle-grade fantasy in the vein of Jenny Nimmo's Charlie Bone series, where ordinary life mixes with just a dash of magic. The real star of the show is the castle itself and its accompanying denizens, including Ashford, the butler, and Caspian Bone, the shape-shifting litigator entrusted with the castle's care. It turns out that the castle has come to be Alfie's inheritance because of the strange circumstances of his birth, when his mother slipped through time to the 15th century just before he was born. Thus, Alfie entered the world under the auspices of the powerful druid Orin Hopcraft, and it is his secrets Alfie must contend with now.
Author Gabrielle Kent has crafted her novel out of several decidedly unoriginal tropes – the foremost being a young boy missing one (or both) parents with a magical ability that will save the day – but the book may well ensnare the imaginations of young fantasy readers. For the more experienced reader, The Secrets of Hexbridge Castle has little to offer.
A copy of this book was provided by the publisher for review.