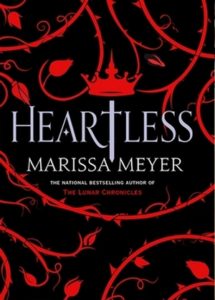 If you've been a bit down because The Lunar Chronicles book series is over, this new twist on an old fairy tale should turn that frown upside down! In the all-new standalone novel Heartless, author Marissa Meyer puts her very special spin on some familiar characters from Alice's Adventures in Wonderland.
Before she became the Queen, Lady Catherine Pinkerton was nary more than a young girl with an incredible talent for baking and a dream of opening up her own shop with her best friend in the kingdom of Hearts. Her mother, however, had very different ideas about her daughter's future, pushing her to marry the King of Hearts, despite the fact that Cath did not love the King. As Cath wrestles between following her own dreams or fulfilling her role as the dutiful daughter of a Marquess, she finds herself falling for a complete stranger: the ever-entertaining joker and new Hearts resident, Jest.
The characters created by Meyer in this new version of Wonderland are familiar yet brand new. Her take on this classic story and the denizens of Hearts and the surrounding worlds capture all the madness and magic of the story we know, while creating backstories that put a spotlight on places and people we may never have given a second thought. Not to mention, the way Meyer writes about all of the delectable confections created by Cath as she navigates the kingdom of Hearts will have your mouth watering!
At 449 pages, Heartless takes you on a wild ride of self-discovery, heart-pounding adventure, romance, and utter heartbreak, all told through Cath's point of view. Cath is a deep and well-rounded character who will absolutely steal your heart (pun intended!) The people and creatures that surround her are a constant and delightful surprise, making this novel a joy to fall into. You will not have had to read Lewis Carroll's original work to enjoy this book, nor to have seen any version of Alice in Wonderland on film or television. Meyer's novel stands on its own, building a rich and decadent new environment for you to lose yourself in.
Just as Meyer gave us reimagined and entertaining versions of Cinderella, Snow White, Red Riding Hood, and Rapunzel in her Lunar Chronicles series, Heartless gives an alternate and compelling new spin on the Queen of Hearts. If there's one thing I love most in film, television, or books, it's an unexpected origin story. Having already been a fan of the Lunar Chronicles simply because of the origin stories Meyer created for each of her characters, I knew I had to get my hands on Heartless because I was guaranteed something I'd never read before. She didn't disappoint.
Beyond the imaginative story between the covers, the book itself is beautiful to touch and see. Soft, buttery covers are all the rage these days, and Heartless follows suit. Black and red (of course!), the book actually came packaged in a deep red box adorned with a single black heart and with embossed capital letters on the front reading: OPEN ME. Whether this will end up as the standard packaging, I have no idea, as this is an advanced reading copy, but it was such a lovely surprise to come home to on a rainy Oregon weekend.
While Heartless is a standalone novel, one can't help but wish for a sequel. With so many bright, zany, and crazy characters littering the pages of Heartless, the potential for a second book is quite high. There has been no hint of a sequel, but we're keeping our fingers crossed!
Our rating: 5 hearts
A copy of this book was provided by the publisher for review.