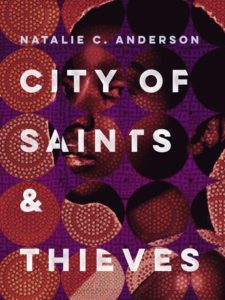 Tina and her mother fled the Congo when Tina was only five, ending up as refugees in Kenya's Sangui City. But that's just where Tina's troubles began – after thinking they had found safety working for the wealthy Greyhill family, Tina's mother ends up murdered. Tina is certain Mr. Greyhill was the one to do it and has spent the past five years training as a thief and a fighter as part of the Goondas, a formidable street gang. Now she has the chance to finally exact her revenge, but she soon realizes that she'll have to face her past if she ever wants to lay her mother's memory to rest.
City of Saints & Thieves, author Natalie C. Anderson's debut novel, is a fast-paced thriller through and through. I could leave it at that. It has everything you want from a nail-biter: intrigue, murder, violence, suspense, hit men, gangsters, a quick-thinking techie – the list goes on. But I'll be honest. That's not why I wanted to read this book, and it's not why I enjoyed it so much. I picked up this book for the sole reason that its heroine was a refugee. We need those stories, and there are far too few of them out there.
Tina (known as "Tiny Girl" to the Goondas) has had horrible things happen to her in her sixteen years. Her mother went through even worse. Tiny hopes to protect her younger sister, Kiki, from the same fate, but the odds are stacked against her. Anderson doesn't shy away from the sexual violence that is a horrific reality for so many young Congolese girls (though deflecting the trauma onto Tiny's mother, rather than Tiny herself, will hopefully keep the text from being triggering for young readers). It is so important to me that this book gives girls the chance to be heroes against real-world threats. Of course, I really hope that readers of the book won't simply take it as a story but will be motivated to find out more about the very real circumstances facing refugees.
In fact, you may want to pair City of Saints & Thieves with one of Emma Watson's Our Shared Shelf picks, Half the Sky: Turning Oppression Into Opportunity for Women Worldwide, to learn more about the dangers facing the world's most vulnerable women and girls.
It is important to note that Anderson knows about these traumas only secondhand. She has worked for the past decade at NGOs supporting refugee relief in Africa, and though she has worked with many people who have similar experiences to Tiny's, she is a white, American woman. This doesn't mean that Anderson shouldn't be telling this story – its telling is vital – but it does mean that we should continue to work for a world in which refugees themselves can publish YA novels based on their experiences, should they wish.
A copy of this book was provided by the publisher for review.