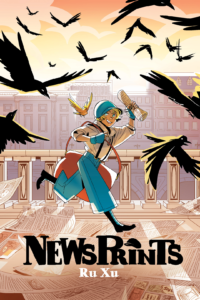 Goswing is at war – a war that left Blue an orphan. She's out on the street until her friend Hector invites her to work as a delivery boy for the Bugle, the local newspaper. She'd have to disguise herself, but she'd have a place to sleep and food to eat. Three years later, she's one of the best, and her secret is still safe. But everything changes when Blue becomes apprenticed to an eccentric inventor, Jack, and befriends a mysterious boy named Crow.
Hector, who has moved on from delivering newspapers to trying to write for them, is searching for a scoop on a missing weapon wanted by the government, and it's not long before Blue realizes that her new friends may be involved. Can Blue stop Hector from exposing a truth that might hurt her friends? Does the missing weapon really have the power to stop the war?
NewsPrints is an exciting steampunk adventure and a delightful read. Xu's illustrations are bright and kinetic, and though I was full of theories about what might happen, the ending still managed to surprise me. The novel is by turns both funny and touching, and though there will be a NewsPrints sequel, the book doesn't end on a big cliffhanger (one of my pet peeves). Xu's got that elusive gift of leaving just the right ends open while still providing a sense of resolution – if only all authors who aspired to write series had this gift!
NewsPrints is a middle-grade story, but I was still 100% captivated as an adult, so I'd recommend picking this one up both for yourself and for the young readers in your life. I can't wait to read more of Blue's story!
A copy of this book was provided by the publisher for review.