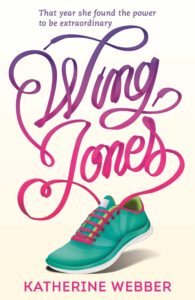 Wing Jones is a story about finding your passion through pain and perseverance, falling in love, and understanding your family from an exceptional new voice in YA. Katherine Weber is an avid book champion, event chair, and lover of all things YA, so her debut was sure to be special. However, all of my expectations grew wings and took flight due to the joy, emotion, and brilliance of this amazing book. Wing's story is heart-wrenchingly beautiful, and her discovery of running as an outlet for her emotions demonstrates that you can do anything if your heart is in it. In a year when we all could do with some hope, Wing Jones shows the rewards of action, belief, and achievement.
With a grandmother from China and another from Ghana, fifteen-year-old Wing Jones is often caught between worlds. But when tragedy strikes, Wing discovers a talent for running she never knew she had. Wing's speed could bring her family everything it needs. It could also stop Wing getting the one thing she wants. Jandy Nelson meets Friday Night Lights.
At the center of Wing Jones is a gutsy, determined young woman. I was utterly enamored with her personal path of perseverance through tragedy. Webber's whimsical, conversational, first-person narrative voice allows you to get to know Wing with ease, getting a glimpse inside her head as she works through her feelings. Whether this is through following her personal guardians in the guise of anthropomorphic dragon and lioness, whose familiar presence guides her imagination and shows her the path, or her observations on the way she's treated by her peers as a shy, curvy, mixed-race young woman in her brother's shadow, Wing's voice is original and endearing. She shares hard truths and introspective learning curves.
Wing and her family are so vibrant and wonderful, holding their heads up through turmoil and their struggles. Her boisterous and opinionated Granny Dee and LaoLao pepper the book with their bickering and wisdom, giving an insight into family history, fraught relationships, and above all an unconditional love and respect. Her Mother's quiet heartbreak after the tragic loss of Wing's policeman father is further tested when her brother Marcus is involved in a horrible accident that proves fatal for one of the passengers. Together with Marcus's girlfriend, Monica, they must reassess their bonds and figure out how to continue when the person they hero-worship falls from his pedestal. For Wing, this means discovering a hidden talent in running.
The descriptions of running are exhilarating in their freedom – Wing sneaking out late at night in her ill-fitting sneakers, drowning her grief-stricken thoughts in the smacking of the pavement. My heart was full with cheering her on as she finds her talent. It's these moments of private endeavor that truly make Wing Jones a hopeful read, perfect for any young person, sporty or not, that reflects "This Girl Can" and this girl will. Furthermore, running allows Wing a way to reconnect, and through training, she also discovers new teammates and like-minded people to help her find her way.
Fans of slow burn romance with friendship, respect, support, and passion will be swept away by the intense evolution of Wing's relationship with her brother's best friend and fellow runner, Aaron. Katherine never paints over their youth, with miscommunication, longing, and awkward first steps. However their shared hurts and their own fierce brand of determined happiness make their first kiss (which, as Katherine happily points out, was once a 10,000-word scene) well worth the wait. Your heart will be pounding like you've sprinted at the end of a marathon.
Wing Jones is the perfect read for fans of Jandy Nelson, Rainbow Rowell, and character-driven sports shows such as Friday Night Lights and Pitch. I absolutely adored this story. It is full of heartache, hope, and personal triumph. You'll fall in love with the characters, cheer them on, and cry for them. Magical and real, sad and triumphant. It explores grief, tragedy, perseverance, bullying, ambition, blossoming love, friendship, family, and more. A truly beautiful book that everyone should pick up!
Wing Jones will be published in the UK this week and in the US as The Heartbeats of Wing Jones on March 14, 2017.
A copy of this book was provided by the publisher for review.