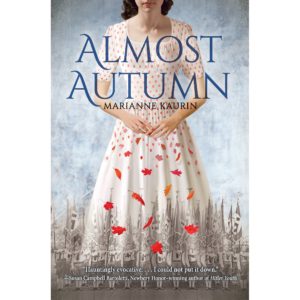 Ilse Stern is a normal 15-year-old girl: she fights with her mother, daydreams about Hermann Rød, the boy next door, and can't wait for the chance to travel the world. Yet as a Jewish girl in Norway in 1942, any semblance of normality will soon vanish. What Ilse doesn't know is that Hermann is working for the Resistance, helping transport Jews to neutral Switzerland. He may be able to save the Stern family, but only if he gets the courage to tell Ilse his secret first.
As can be expected from a Holocaust story, Almost Autumn is bleak and heartbreaking. It took me a little while to be drawn into author Marianne Kaurin's unadorned style as she cycles between narrators, but as I kept reading, I came to feel that it reflected the sense of loss and dread that permeates the whole book. Though the book is marketed as being a kind of romance between Ilse and Hermann, the story is really more about the Stern family. There are chapters from not just Ilse's point of view but also her father's and older sister's – and much that we learn about those two characters Ilse never knows.
I found this to be a very moving novel that beautifully sheds light on the plight of Jews in Norway during WWII – a region that is not featured as often in Holocaust literature as, say, Germany or Poland. The ending feels abrupt, unfinished, and shies away from a really satisfying resolution, but it also feels like this is intentional. The life of the Sterns was interrupted and violently shattered, and that kind of loss never really ends.
A copy of this book was provided by the publisher for review.