Our Author Takeover this week comes in the form of a recommendation list of diverse reads from Heidi Heilig, author of young adult historical fantasy The Girl from Everywhere and the upcoming sequel, The Ship Beyond Time, which will be published this month on February 28, available to preorder here. Heidi believes in the magic of an escapist read, and she would be sure to look for books from a vast array of authors in Hogwarts library. She grew up in Hawaii, where she rode horses and raised peacocks, before moving to New York City. Heidi now lives in Brooklyn with her family and their pet snake, whose wings will likely grow in any day now.
Follow Heidi at www.heidiheilig.com or on Twitter: @heidiheilig
A Reader's Revolution: Heidi's Guide to Reading Far and Wide 
I know it's only February, but 2017 has been a rough year so far. Not a day goes by when I do not want to escape into a good book – but even books have become politically charged. I myself am a so-called "diverse" author, but you don't have to be marginalized to know that diversity (in publishing as in politics) is a hot-button issue. Some people think that "diverse books" are all the rage, but the CCBC Multicultural Statistics here show that the numbers really haven't changed that much. Depressing? Yeah. But what can we do about it?
WELL.
What if I told you that you could resist by reading?
I have a list for you. A short list of amazing books, all by native authors or authors of color. Thirty books, to be exact, spread across six genres – contemporary, fantasy, historical fantasy, horror, magical realism, and sci-fi – by authors from marginalized backgrounds, who could use your support right now. That's 30 new worlds to escape to – 30 new points of view to consider – 30 new pairs of shoes in which to walk on a fantastic journey. We need a revolution in media as in politics to lift up marginalized voices, to humanize The Other, to recenter those long pushed aside.
Just imagine: what would your year look like if you read only marginalized authors? What would the world look like if we all did the same? And how many books do you read each year, anyway? If it's more than 30, I challenge you to pick up every one of these. I know you can do it! Starting with: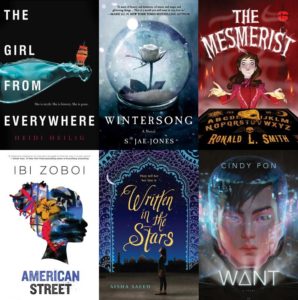 Contemporary
AFTER THE FALL by Kate Hart
Seventeen-year-old Raychel is sleeping with two boys: her overachieving best friend and his slacker brother, and when tragedy strikes, everything falls apart. Raychel has to decide which pieces she can pick up and which ones are worth putting back together.
Buy here
WRITTEN IN THE STARS by Aisha Saeed
Naila's conservative parents have one rule: they will arrange her marriage. So when she falls in love with Saif, her parents are livid. Convinced she has forgotten who she truly is, they bring her to Pakistan to visit relatives, explore their roots – and marry her off right away. Can Saif help her escape before it's too late?
Buy here
NOTEWORTHY by Riley Redgate
A driven Chinese drama student must disguise her gender to infiltrate an all-boys acapella group for a chance at fame and fortune – and risks it all for friendship in the end. (Riley's first book, SEVEN WAYS WE LIE, is another great contemp about a student-teacher relationship and the way it affects seven differents students at a high school.)
Buy here
RAIN IS NOT MY INDIAN NAME by Cynthia Leitich Smith
In the six months since her best friend died, Rain has shut herself off from the world. But when she is hired by her town newspaper to photograph her aunt's Indian Camp in their mostly white midwestern community, does she want to keep a professional distance from the intertribal community she belongs to? And just how willing is she to connect with the campers after her great loss?
Buy here
THE HATE U GIVE by Angie Thomas
When Starr witnesses the fatal shooting of her childhood best friend at the hands of a police officer, her world is shattered. This searing debut about an ordinary girl in extraordinary circumstances addresses issues of racism and police violence with intelligence, heart, and unflinching honesty.
Buy here
Fantasy
THE READER by Traci Chee
This debut bestseller is set in a world where reading is forbidden. Amid overlapping tales of swashbuckling pirates and merciless assassins, Sefia must rescue her aunt and avenge her father's death, all with the help of a mysterious rectangular object she comes to learn is a book.
Buy here
THE STAR-TOUCHED QUEEN by Roshani Chokshi
A lush and vivid story steeped in Indian folklore and mythology, Chokshi's debut about a cursed queen was an instant bestseller. The companion novel, CROWN OF WISHES, is about a puppet king and a tournament full of danger and desire.
Buy here
LABYRINTH LOST by Zoraida Cordova
Alex is a bruja, the most powerful witch in a generation… and she hates magic. But when she performs a spell to rid herself of her power, it backfires and her whole family vanishes into thin air. The only way to get her family back is to travel to Los Lagos, a land in between, as dark as Limbo and as strange as Wonderland.
Buy here
THE FOREST OF A THOUSAND LANTERNS by Julie C. Dao
A dark and mystical East Asian fantasy reimagining of Snow White about one peasant girl's quest to become Empress – and the darkness she must unleash to achieve her destiny.
Buy here
LIBRARY OF FATES by Aditi Khorana
Until now, the idyllic kingdom of Shalingar has been immune to Emperor Sikander's violent conquests. To keep the visit friendly, Princess Amrita has offered herself as his bride, sacrificing everything to save her people. But her offer isn't enough. Caught between her rosy past and an unknown future, will Amrita be able to restore what was lost, or does another life – and another love – await?
Buy here
WINTERSONG by S. Jae-Jones
When her sister is taken by the Goblin King, Liesl must journey to the Underground to save her, and she finds herself drawn to the strange, captivating world and the mysterious man who rules it. (The author is biracial and has bipolar disorder, and while Liesl is white, she has bipolar disorder as well.)
Buy here
GATES OF THREAD AND STONE by Lori Lee
In a city of walls and secrets, where only one man is supposed to possess magic, 17-year-old Kai struggles to hide her ability to manipulate the threads of time. But when her older brother, Reev, disappears, Kai vows to do whatever it takes to find him.
Buy here
THE GAUNTLET by Karuna Riazi (middle grade)
A trio of friends from New York City finds themselves trapped inside a mechanical board game that they must dismantle in order to save themselves and generations of other children in this action-packed debut that's a steampunk Jumanji with a Middle Eastern flair.
Buy here
Historical Fantasy
IRON CAST by Destiny Soria
It's Boston, 1919, and the Cast Iron club is packed. By night, best friends Ada and Corinne perform for the crowds, and by day they con Boston's elite. But when a job goes wrong and Ada is imprisoned, she realizes how precarious their position is.
Buy here
THE GIRL FROM EVERYWHERE by Heidi Heilig (that's me!)
This acclaimed debut follows Nix, who travels through time, history, and myth using old maps. But when her father finds a map of the year her mother died – the same year Nix was born – they must risk unmaking her entire past – and a heist of the Hawaiian Royal Treasury – to save her mother's life. In the sequel, THE SHIP BEYOND TIME, Nix learns she's fated to lose the one she loves, and she must bend time to try to save him.
Buy here
Horror
THE JUMBIES by Tracey Baptiste (middle grade)
A spine-tingling tale rooted in Caribbean folklore, in which an 11-year-old girl risks losing her family, her friends, or her freedom when she goes up against a monstrous jumbie. In the sequel, RISE OF THE JUMBIES, a girl who is half-jumbie must clear her name when she is suspect in the disappearance of children on her Caribbean island.
Buy here
THE GIRL FROM THE WELL by Rin Chupeco (or anything she writes)
In this poetic and lyrical horror story, a vengeful ghost and a tattooed boy travel from American suburbia to the remote valleys of Aomori, Japan, to try to exorcise the demons that haunt them both.
Buy here
THE MESMERIST by Ronald L. Smith
Thirteen-year-old Jessamine Grace and her mother make a living as sham spiritualists – until they discover that Jess is a mesmerist and that she really can talk to the dead.
Buy here
Magical Realism
AMERICAN STREET by Ibi Zoboi
On the corner of American Street and Joy Road, Fabiola Toussaint thought she would finally find une belle vie – a good life. But when her mother is detained by immigration, Fabiola must navigate this new world – and an impossible choice – alone. A lyrical exploration of America infused with magical realism and Vodou culture.
Buy here
WHEN THE MOON WAS OURS by Anna-Marie McLemore
Best friends Miel and Sam are as strange as they are inseparable. But when the witchy Bonner sisters demand the roses that grow from Miel's wrists, they're willing to use every secret Miel has fought to protect to make sure she gives them up.
Buy here
THE SECRET OF A HEART NOTE by Stacey Lee
For Mim – one of only two aromateurs in the world – the rules are clear: falling in love would render her nose useless. But when she accidentally gives an elixir to the wrong woman and has to rely on her son, the school soccer star, to help fix the situation, Mim quickly begins to realize that falling in love isn't always a choice you can make.
Buy here
SHADOWSHAPER by Daniel Jose Older
When Brooklyn girl Sierra notices the murals in her neighborhood weeping real tears, she knows something more sinister than the usual Brooklyn ruckus is going on. With the help of a mysterious artist, she discovers shadowshaping, a thrilling magic that infuses ancestral spirits into paintings, music, and stories. But someone is killing the shadowshapers one by one – and the killer believes Sierra is hiding their greatest secret.
Buy here
Sci-Fi
ROBOPOCALYPSE by Daniel H. Wilson
After a robot attack nearly wipes out humanity, the scattered survivors regroup, united for the first time in a determined effort to fight back. This is the oral history of that conflict, told by an international cast of survivors.
Buy here
WANT by Cindy Pon
In a near-future Taipei plagued by pollution, Jason Zhou must infiltrate the lives of the wealthy in hopes of destroying the international Jin Corporation. But when he finds himself falling for the daughter of Jin Corp's CEO, can he save his city without breaking his heart?
Buy here
BEYOND THE RED by Ava Jae
The first female ruler in generations, Queen Kora faces assassination and unrest to keep her people safe from her tyrannical younger brother. But when mixed-race rebel Eros becomes her bodyguard, she has to choose between love and duty to save the throne – and work with him to prevent genocide.
Buy here
WARCROSS by Marie Lu
Struggling to make ends meet, teenage hacker Emika Chen works as a bounty hunter, tracking down players who bet on the game illegally. But the bounty hunting world is a competitive one, and survival has not been easy.
Buy here
Looking Ahead to 2018: Eight Bonus Books for Your TBR
Contemporary
TYLER JOHNSON WAS HERE by Jay Coles
A black teen's life is torn apart by police brutality when his twin brother goes missing.
Fantasy
THE BELLES by Dhonielle Clayton
Scott Westerfeld's THE UGLIES meets Marie Antoinette's court in a world where everyone is born looking degenerate, but there are women who can change you down to your bones for the right price.
A BLADE SO BLACK by L.L. McKinney
A black teen named Alice battles nightmares in a place called Wonderland in this ass-kicking retelling.
SWEET BLACK WAVES by Kristina Pérez
A fantasy retelling of Tristan and Isolde, pitched as GRACELING meets THE MISTS OF AVALON.
KIRANMALA AND THE KINGDOM OF SERPENTS by Sayantani DasGupta (middle grade)
The interdimensional adventures of a 12-year-old girl who finds out she is an Indian princess destined to slay bloodthirsty rakkhosh demons.
Historical Fantasy/Horror
DREAD NATION by Justina Ireland
Family drama and romance in a post–Civil War America overrun by undead from the battlefields.
Sci-Fi
WHEN WE SET THE DARK ON FIRE by Tehlor Kay Mehia
At a school where young women are trained to become one of two wives assigned to high society men, revolution sends star student Dani Vargas into the arms of the second wife of her husband-to-be.
TRAIL OF LIGHTNING by Rebecca Roanhorse
In this debut pitched as an indigenous MAD MAX: FURY ROAD, a young Navajo woman hunts monsters with the help of an untested medicine man.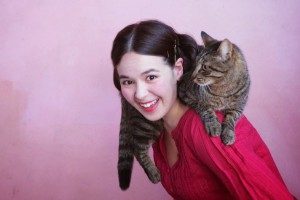 We hope this list has provided you with a great starting point to discover a whole new world of brilliant books. Do you have any recommendations for diverse reads from #OwnVoices writers? Add them in the comments below!