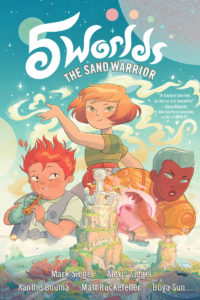 The Sand Warrior is the first installment of the graphic novel series 5 Worlds, and if you haven't already heard how awesome it is, I'm thrilled to be the first to tell you!
Oona Lee is a less-than-stellar student at the Sand Dancer academy, whose pupils learn to gracefully summon sand aniforms, entities controlled by Sand Dancers. Oona never gets it right; in fact, her biggest claim to fame is her older sister Jessa, a talented Sand Dancer who disappeared years ago. But Oona soon finds that being a poor student is the least of her worries — all of the Five Worlds might soon be destroyed if the ancient beacons, one on each world, cannot be lit. It's been a thousand years since the beacons last shone, and an old force of darkness threatens to destroy everything — and everyone — Oona has ever loved. Oona is sure that her sister is the Sand Dancer the world needs to relight the beacons, but can she find her in time?
I cannot lavish enough praise on this enchanting graphic novel, beautifully illustrated by Xanthe Bouma, Matt Rockefeller, and Boya Sun. Authors Mark Siegel and Alexis Siegel have conjured a complex world of living plants, ancient relics, and impressive future tech. It has aspects of both fantasy (magic sand) and science fiction (space travel), and I dare you not to get immediately get caught up in Oona's epic tale! She's joined on her quest by Jax Amboy, the galaxy's most beloved Starball player, and An Tzu, a mysterious boy from the poorest part of the city. Together, the trio begins to uncover the truth behind the oldest legends of the Five Worlds, traversing a richly imagined landscape with lots of adventures in store.
The Sand Warrior has been compared to the likes of Avatar: The Last Airbender and Saga, and — as far as I can tell — it's got a good little heaping of Moana in there as well. It's been praised by the likes of Noelle Stevenson, the author and illustrator of Nimona, and Kazu Kibuishi, the creator of the popular graphic novel series Amulet (not to mention Scholastic's 15th anniversary editions of Harry Potter!). I'm already desperate to get my hands on the second installment, The Cobalt Prince, and trust me — as soon as you finish The Sand Warrior, you will be too.
We've partnered with the publisher to offer TWO copies of this excellent book for giveaway! Please note that this giveaway is open to US residents only. Enter below for your chance to win!
A copy of this book was provided by the publisher for review.