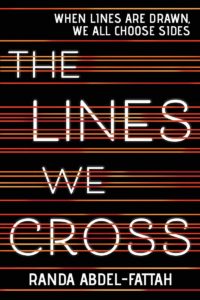 Michael's parents are the founders of Aussie Values, a fringe political party dedicated to keeping refugees from arriving in Australia illegally and promoting assimilation for those refugees that come over legally. He knows his parents are good people, so Michael has always gone along with Aussie Values without thinking too much about it – but all that changes when he meets Mina, the new girl at school. Mina openly challenges his assumptions about refugees in class, and he is abashed to learn that Mina arrived in Australia in a refugee boat as a child.
For her part, Mina isn't exactly surprised that some of her classmates at her fancy new school are anti-immigrant. Michael gets under her skin the most – he doesn't even seem to realize the views he's spouting are racist, and sometimes he just seems so nice. Can she change his mind? Can Michael bring himself to defy his parents' political beliefs?
Even though The Lines We Cross is based in Australia, it's extremely relevant to political discourse in the US today. We may not have refugees arriving in the country by boat, but the question of how many refugees should be resettled here has been a hot topic of contention, to say the least. Author Randa Abdel-Fattah's treatment of the topic, presented in alternating narration between Michael's and Mina's points of view, is effective in the way it presents both sides of the refugee debate.
Michael's parents don't see themselves as racists, and they don't condone hate speech – their privilege blinds them to the real meaning behind the views they preach, and their organization accepts members on the more radical end of the spectrum under the claim of "free speech." As infuriating as this may be, this is what racism looks like in households all across our country. If we want people to face up to it in real life, it's important to have true-to-life depictions in fiction, too. In an ideal world, this book can help change some young readers' minds about these issues. If nothing else, it can help each side understand the other better.
Beyond the political issues, The Lines We Cross is a speedy and engaging read. Let's be honest – any time a book features a Lord of the Rings full-trilogy viewing party (costumes required, obviously), I'm there for it. A love story with a political conscience? Sounds perfect to me.
A copy of this book was provided by the publisher for review.