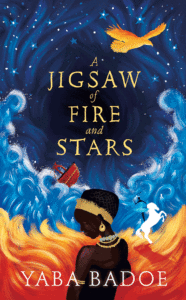 A Jigsaw of Fire and Stars is a haunting contemporary debut by award-winning Ghanaian-British filmmaker Yaba Badoe. The story has a powerful, dreamlike narrative that weaves its way through a myriad of serious threats faced by Sante and her friends. Meet 14-year-old Sante, the survivor of a shipwreck, adopted daughter of traveler Mama Rose, playmate of twins Cat and Cobra, and her protector, a bird of prey named Priss, and a new friend, Scarlett, who knows more than she lets on.
Sante was a baby when she was washed ashore in a sea-chest laden with treasure. It seems she is the sole survivor of the tragic sinking of a ship carrying migrants and refugees. Her people.

Fourteen years on she's a member of Mama Rose's unique and dazzling circus. But, from their watery grave, the unquiet dead are calling Sante to avenge them: A bamboo flute. A golden bangle. A ripening mango which must not fall if Sante is to tell their story and her own.
Welcome to Mama Rose's Family Circus for an evening of magical entertainment, incredible tricks, and daring feats created for your delectation alone – this is the introduction our main character, Sante, is all too used to hearing before her display of acrobatics designed to earn a coin from spectators. The traveling band of cobbled-together found family provides a rag-tag background for the plot, disappearing when needed and returning to cause further complications.
Sante herself is a headstrong character despite the lies she's been raised believing. Her devotion to her adopted family is apparent throughout, even as she grapples with betrayal and her desire to learn about her birth family. She is also very brave, throwing herself full-bodied into danger's way in order to rescue the desperate Scarlett when she's in fits of despair. However, she is emotional, and sometimes her reactions don't allow for full thought of consequences.
Badoe is a descriptive writer, and the world is seen primarily through Sante's eyes, so the peripheral characters in the story are very much impressions from a narrow viewpoint. This means we never see much beyond the surface of their intentions until the ramifications are revealed – oftentimes to Sante's confusion as she struggles to make sense of this dark world.
The villains of the piece, whose actions ensnare the 14-year-old and her friends into a world of child trafficking, are reduced to snatches of descriptions – Grey Eyes, Barrel Man, The Captain. This works to dehumanize them and create almost pantomime-like bad guys, despite the layers to their cruelty. The effect is distancing to the reader, though Sante's revulsion and horror are all too present and shocking on the page. It's a bold choice to handle such sensitive topics with frank and unapologetic strokes.
With plenty of ghosts in the form of visiting spirits, flashes of memory, and a protective bird of prey, A Jigsaw of Fire and Stars steps effortlessly between the contemporary Spanish setting and spiritual African roots. While the dreamlike narrative and sometimes too-fluid scene transitions can make this a bit of a rolling ocean of a read, purposefully disorientating, it is nonetheless a vivid and inventive tale that frames its serious themes in a state of watchfulness and integrity.
I would be remiss not to mention the absolutely stunning artwork by Leo Nickolls that accompanies Badoe's text, a stunning image that has depth, fire, beauty, and attention-grabbing colors. The spirits that work their way through the text are evident in the ocean of blue and the blazing ferocity of revenge in the reds and yellows.
A Jigsaw of Fire and Stars is perfect for Potterheads and fans of The Gracekeepers and The Girl From Everywhere. Rich in the Ghanian legend, ghostliness, and African color framed by the dazzling circus and weighted, gritty, determined darkness, Yaba Badoe's novel is a haunting story that demands a place on all shelves.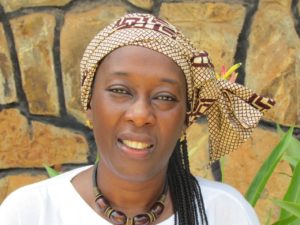 A Jigsaw of Fire and Stars
Yaba Badoe on Twitter: @yaba_badoe
Leo Nickolls (illustrator) on Twitter: @leonickolls