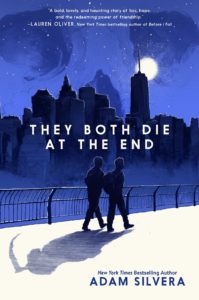 When Rufus Emeterio and Mateo Torrez get a call from Death-Cast in the early hours of the morning on September 5, they know what's coming – sometime in the next 24 hours, they will die. Mateo wants the chance to be brave on his final day of life; Rufus… well, let's just say his last hours aren't going to plan. After they're connected via the Last Friend App, their lives will never be the same.
Let's get one thing clear – we all know what's coming, right? The book's grim title is basically a synonym for the name "Adam Silvera," after all. Silvera will make you love his characters, make you care about them, make you hope that the title is meant to be misleading and that Mateo and Rufus will defy the odds, and then – you know. As long as you bring your tissues when you sit down to read, you'll be fine. Feels are already included.
I have read and enjoyed Silvera's other two books, More Happy Than Not and History Is All You Left Me, so I wasn't at all surprised to find that this one is just as well-written, and with just as much heart, as those two. For that reason, I'll skip over the generalities of this review and jump right to the parts of the book that most intrigued me!
There are two aspects of They Both Die at the End that I particularly liked. The first was Silvera's imagining of the uses and abuses of social media that would arise if Death-Cast were a reality. The technology behind this company and its development is not the focus of this book – it just sits tantalizingly in the background while Silvera focuses on the effects something like Death-Cast has on society. On a personal level, that includes Rufus, Mateo, and everyone else who either receives a call or knows someone they love did. While that's the main focus of They Both Die at the End, we also see glimpses of how society has adapted to a new user and consumer base. People spend both time and money differently when they know they are going to die, and that's something that would be capitalized on, whether we like to think so or not.
The other thing I appreciated was, of course, a fairly obvious allusion to the world of Harry Potter and its fans (am I a cliché? I don't care!). Though Mateo and Rufus are at the novel's center, Silvera also explores the experiences of others who are affected by Death-Cast, including an actor who played an important role in a book-to-film franchise known as the Scorpius Hawthorne series. It's way more fun if I let you experience those tidbits for yourself, so I'll stop there. Nothing can be that bad if there are subtle Harry Potter references, right? RIGHT?
Anyway, in case it's not clear, this is a really great book. You should consider picking up a copy!
A copy of this book was provided by the publisher for review.