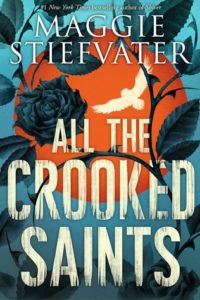 Bicho Raro, Colorado, is where people come for miracles. Here, the Soria family has for generations performed miracles in two parts. The first miracle manifests a pilgrim's inner darkness – for example, a man may grow to be 30 feet tall or a woman might only repeat the last words someone has said to her. The second miracle happens when the pilgrim confronts their darkness, which cures them of whatever strange circumstance they've developed. All the Crooked Saints follows both members of the Soria family and Bicho Raro pilgrims over the course of a few eventful days – after which none of them will ever be the same.
As a fan of Maggie Stiefvater's Raven Boys and Shiver series, I was excited to read Stiefvater's first YA book in a while that explores a world totally different from those two. And though All the Crooked Saints employs a number of recognizable Stiefvater touches – mainly a memorable magic system and a reverence for cars – she has managed to conjure a completely magical world that's much different from any of her earlier works.
The word I would use for this book is probably "hypnotizing." It's got a very distinctive third-person-omniscient narrator who's almost as present in the text as any of the characters – almost like the voice-over in a telenovela if the voice-over were calm and all-knowing and a little bit angsty. I enjoyed the characters and the magic that shapes their world; this book stands in a tradition of awesome YA fantasy novels that are stand-alones, something that is a little uncommon these days. At its heart, All the Crooked Saints is about family and love, and it's hard to go wrong with either.
Fans of Stiefvater's work shouldn't be disappointed, and I expect this book to draw in a lot of new readers as well.
Fun fact: The screenplay for the film adaptation of Stiefvater's previous stand-alone YA novel, The Scorpio Races, is being written by Jack Thorne of Harry Potter and the Cursed Child fame – the more you know!
A copy of this book was provided by the publisher for review.