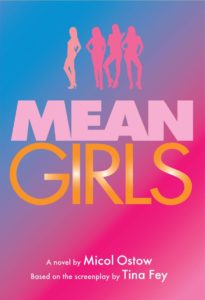 Before you ask – yes, this is a novelization of that Mean Girls, the 2004 movie starring Lindsay Lohan and Rachel McAdams. Homeschooled Cady Heron has a lot to cope with when she starts public high school for the first time. Foremost among her new problems: Regina George, the most popular girl in school and queen of "The Plastics." Against her better judgment, Cady finds herself drawn into Regina's circle, and, before she knows it, is caught up in a world of heartbreak and drama.
I was intrigued to learn that a novelization of Mean Girls was being published 13 years after the movie's original release. For my generation, Mean Girls was an instant classic – I know many people who can (and regularly do) quote from it word-for-word. I wondered what author Micol Ostow would add to the story. As it turns out – not too much for anyone who's seen the original film.
Ostow's main intervention seems to be inserting chapters from different character's points of view. We hear not only from Cady, but also Damian, Aaron, and even Regina herself. The story is also interspersed with text messages, emails, and other elements that are meant to emulate the opinions of characters outside of the main action – essentially, how the drama unfolding between Cady, Regina, and co. is perceived by the rest of the high school. I suppose this has a kind of democratizing effect: The book is trying, at least a little bit, to recognize the perspectives of everyone involved.
Still, I have to admit that this novel just doesn't have the spark of the original. There are many valid criticisms you can throw at the 2004 film – its treatment of gay characters, lack of diversity, etc. – but this text doesn't seem to correct for those in any meaningful way. In fact, it is almost unreadable for anyone who has seen the movie; even all these years later, the film's iconic status looms too large to be overcome by Ostow's re-imagining. Plus, all of the major plot details are the same.
That being said, it has perhaps never been so clear to me that I am not the intended audience for this book. There are young people old enough to read this book now who weren't even born when the movie came out, and maybe they'll find something in it that's totally invisible to old-timers like me.
A copy of this book was provided by the publisher for review.