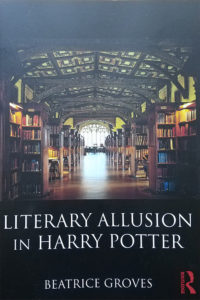 By now, the name "Beatrice Groves" should be familiar to MuggleNet readers. The research lecturer and tutor at Trinity College, Oxford, has shared tons of fascinating interpretations on our site, from detailing how Shakespeare and Harry Potter are connected to exploring the relationship between the Potter series and Sherlock Holmes – she's even tackled literary allusion in The Cuckoo's Calling! Groves has also appeared on the podcast Reading, Writing, Rowling, so it's no surprise that we're thrilled to be reviewing her book, Literary Allusion in Harry Potter, here today!
The first thing that's clear from Groves's introduction is that even Rowling's most passionate fans might not be aware of the levels of allusion contained in the Potter series – did you know that Mrs. Norris is named after a character from Jane Austen's Mansfield Park, for instance? Drawing from a number of sources – including several interviews with J.K. Rowling over the years – Groves shows us that literary allusions in Harry Potter are an intentional tactic Rowling uses to engage her readers. Through the course of the book, readers are taught how to identify some of the most prominent allusions Rowling makes – to Chaucer, Milton, Shakespeare, Austen, and others.
For some readers, this might be starting to sound a lot less like the fun of reading Harry Potter and a lot more like schoolwork, but one of the assets of this book is that it always keeps an eye on the pleasures of allusion: Rowling includes so many allusions because she loves literature, and recognizing allusions in the Potter books is meant to be an extra part of their enjoyment. Groves's analysis helps lovers of Harry Potter see the series in a new way, and if those readers are also lovers of English literature (and I know a lot of you are!), this book is sure to be a new favorite. It's nice, too, that it also works in the opposite direction – if you love Harry Potter but start to doze off at the mention of Romeo and Juliet, this book might help you stay focused on iambic pentameter long enough to pass your exams. I should also add that the structure of the chapters makes it easy to read it in its entirety or to pick and choose which concepts you find most interesting – like a "choose your own adventure" through Rowling's magical mystery tour of literary history.
Literary Allusion in Harry Potter is worth your consideration as a gift for the Harry Potter fan who has everything. Don't get me wrong – I love all of the fabulous Potter merch that's on the market today. (Did I know that I needed a Harry Potter umbrella? No. Do I want a Harry Potter umbrella? Yes.) But there's something nice about returning to what made us all fall in love with Harry in the first place: the books. Even if you've read the series a hundred times over, I'll bet you find something new to appreciate after sampling Rowling's literary allusions.
A copy of this book was provided by the publisher for review. You can get your own copy right here.