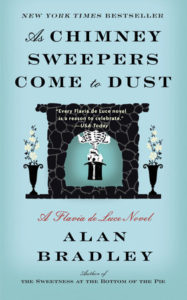 When her widowed father and spinster aunt send her away to a boarding school in Canada, 12-year-old English heiress, chemist, and sleuth Flavia de Luce feels she is being exiled. But on her first night at Miss Bodycote's Female Academy in Toronto, a desiccated corpse wrapped in a Union Jack, with the wrong head attached, drops out of the chimney into her dorm room and makes her feel right at home again.
Flavia's dogged pursuit of "who done it" strains even the tolerance of rule-breaking afforded a girl whose family fortune keeps the school doors open. It threatens to upset the delicate cover of a school that is partly a training facility for secret agents, of whom Flavia is expected to be one. It leads her to pry into the affairs of the faculty, the regents, even the laundresses who work in the shed behind the school.
Tied somehow into the body in the chimney are the disappearances of three schoolgirls two years earlier and a mysterious sighting of one of them just recently; the fishy (sorry) drowning of the chairman's first wife, whose body was never found; suspicious circumstances surrounding another student's drugging and hospitalization; and the fact Flavia's favorite teacher, acquitted of the poisoning death of her husband, has been arrested in this case, though she seems the least likely suspect.
Flavia and murder go together like bangers and mash, but without Buckshaw and its eccentric inhabitants, something is definitely missing. Flavia herself misses it desperately. Though it seems a tragedy to deprive this brilliant, precocious girl of a good education, washing out of school seems the best thing for her. At least, it will be good for us, as things will evidently go back to normal – with a certain difference – in time for the eighth book in the series, Thrice the Brinded Cat Hath Mew'd.
While I'm mentioning it, aren't the titles in this series the greatest? I know where this one comes from only because I once sang a beautiful song containing the line (Gerald Finzi's "Fear No More the Heat o' the Sun," from Shakespeare). Just choosing to read a book with titles like these might make you smarter, or at least, help you feel that way.
Interested? Buy a copy here.