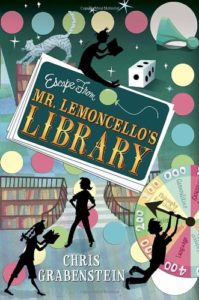 When Luigi L. Lemoncello was 12 years old, the public library of his hometown of Alexandriaville, Ohio, was his escape from a crowded home. But 12 years ago, that library was torn down to make way for a parking structure. Now a world-famous game designer, Lemoncello has spared no expense to convert an old bank building into a high-tech library, so another generation of 12-year-olds can learn, dream, and have fun with good books.
The day before the library is to open, Mr. Lemoncello invites 12 local 12-year-olds, winners of an extra-credit essay contest, to be the first to use his amazing new library. Not only do they get to spend a night locked in with interactive holograms, key-carded Dewey Decimal sections, video games, and memorabilia, but they also have a chance to win the grand prize of being his company's spokesperson in a series of nationwide advertisements. All they have to do is escape from the library without (a) going out the front door, (b) setting off any alarms, or (c) mistreating one another or library materials. Each kid gets a chance to opt out of the game, call a friend, consult an expert, and risk everything on an extreme challenge.
Among the youngsters competing for the prize is Kyle Keeley, a game enthusiast who tends to do things like split a $500 gift card with his parents and two brothers. Kyle assembles a team of kids whose different strengths work well together to solve the puzzles that will lead them to the library's secret exit.
Heading the other team is Charles Chiltington, a rich kid with an unhealthy drive to win. Charles gathers a team of loners and backstabbers, of whom he is the foremost. While he is willing to do anything to win, he clearly doesn't get what the library is for. Compared to Kyle, who is constantly adding to the list of books he has to read, Charles never catches Mr. Lemoncello's constant, whimsical references to classic children's books. In the end, the question is whether being "in it to win it" matters more than being open to all the ways a library can be informative and fun.
This book is a gift to children who love reading and to adults who once were such children. Not only does it contain a bonus puzzle that the author invites readers to solve on their own, but it also features rebuses, riddles, book trivia, and a veritable bibliography of books every child should read sometime. Simply catching all the clever book references is a challenge that groups of bright kids might enjoy working on, either together or as a contest. As for the games, this book describes both real games many of us fondly remember and fictional games somebody should seriously invent.
A character in this book compares Mr. Lemoncello to Willy Wonka, and the comparison holds up. It's a lot like that kind of adventure, only with high-tech gizmos instead of magic, puzzles instead of morality plays, and a less tooth-rotting way to light up children's imaginations.
This is the first book I have read by Chris Grabenstein. I am amazed at the number of titles he has authored, including The Explorers' Gate, The Island of Dr. Libris, and two sequels to this book, Mr. Lemoncello's Library Olympics and Mr. Lemoncello's Great Library Race. He has also co-authored many books with James Patterson, including the Daniel X, House of Robots, I Funny, Middle School, and Treasure Hunters series. Other series he has written on his own include the John Ceepak books (Tilt-a-Whirl and seven more), the Christopher Miller Holiday Thrillers (Slay Ride and Hell for the Holidays), the Haunted Mysteries quartet, two Riley Mack/Ocean's Eleven books, and three Welcome to Wonderland books.
Interested? Buy a copy here.